CASE STUDY: Aligning Acquired Sales Teams to Accelerate Growth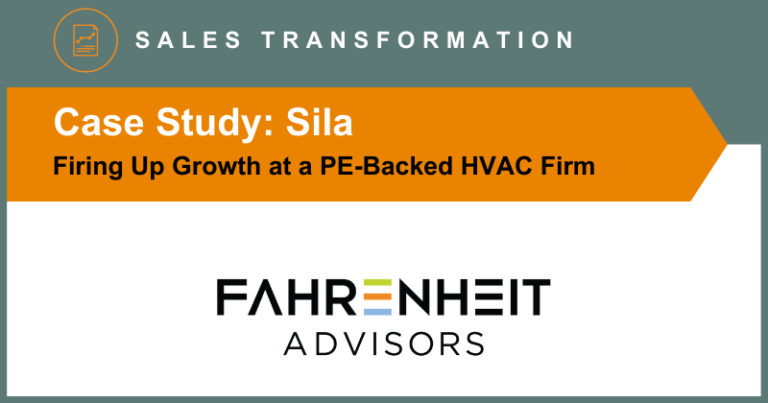 Sila, a PE-backed HVAC firm, engaged Fahrenheit Advisors to fire up their growth.  This case study outlines the challenge, solution, and results of the engagement.
THE CHALLENGE
Sila, a fast-growing mid-size HVAC company, needed to align the sales processes of recently acquired companies with its existing enterprise to keep it on a growth trajectory. Inconsistent and, in some cases, incomplete sales processes hindered optimal performance. A private equity firm working with Sila recommended Fahrenheit Advisors to transform sales processes into an efficient and more powerful growth engine capable of powering Sila to the next level.
OUR SOLUTION
Working closely with Sila Vice President for Sales Adam Kroungold, Fahrenheit began with an exploration of current sales processes across all units. Fahrenheit's analysis identified opportunities for standardization and simplification, and it established the foundation for the primary deliverable: an updated comprehensive sales playbook for use across the enterprise.
The playbook details a complete 10-step selling process and includes both a customer-facing iPad presentation and an extensive internal sales guide that includes valuable tools, such as a competitive overview, customer personas, tips to overcome sales objections, and more. The playbook outlines a focused universal sales process that was quickly communicated to all current business units. It also will roll out to future acquisitions to maintain enterprise-wide sales integration and alignment.
Fahrenheit also facilitated transferring essential sales information to ServiceTitan, Sila's sales administration and enablement platform. This digital conversion further streamlines adoption of the new standardized, enterprise-wide sales processes for faster performance improvements. Additionally, with Kroungold's guidance, Fahrenheit implemented a communications plan and change management strategy that aligned all sales units.
THE BENEFITS
The new sales playbook Fahrenheit developed with Sila standardized compensation and sales processes across markets and put an operation in place that gave the firm's PE investors confidence in its ability to grow. New funding followed, allowing Sila to purchase two additional companies that expanded its footprint and maintained its growth trajectory. Additionally, new workflows and engagement with ServiceTitan streamlined operations, creating greater efficiencies that improved customer service, accelerated the sales cycle, and closed more deals.

Here is more information about our Sales Transformation practice and our featured consultant from this engagement, Selena Sanderson. Let's get started firing up your company's sales- Experts@FahrenheitAdvisors.com.