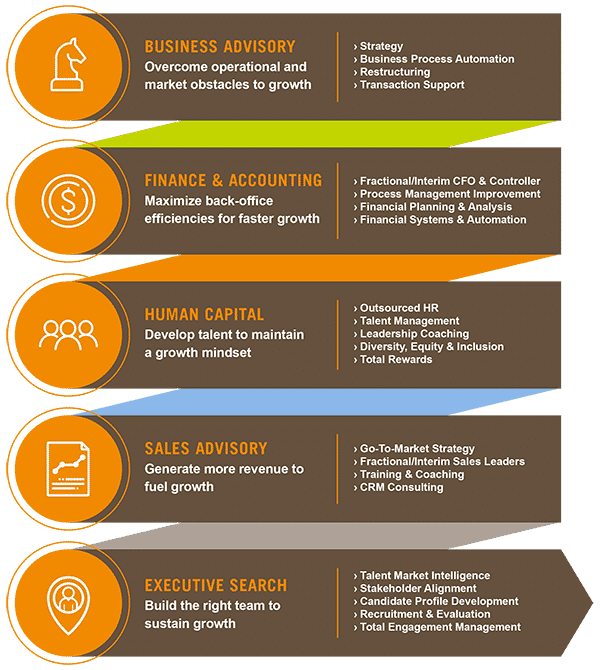 In the fall of 2009, our founders recognized the need for a solutions-driven approach to consulting. The market's existing practices—cultivating leads and moving bodies—enriched consultants but underserved clients. Traditional consulting was ripe for reinvention.
Out of this conversation, Fahrenheit Advisors evolved: A dynamic advisory, consulting and search firm that helps your organization overcome challenging hurdles and find the straightest path forward. A seasoned team that doesn't just fill gaps, but instead, provides practical solutions. Consultants who help guide strategy and fuel growth without unnecessarily expanding your payroll.
Fahrenheit Advisors are your professional go-to consultants known for their straightforward style and uncompromised core values: Competency. Character. Candor.
MISSION
Through consistently delivering superior results and nurturing trust, Fahrenheit Advisors are committed to improving the lives of our employees, our clients and the communities in which we work and live.
We accomplish this through our core principles: Integrity. Flexibility. Accountability. Community. Entrepreneurial. These values guide our way as we guide yours. STRAIGHT. FORWARD.
AWARDS
Fahrenheit Advisors' commitment to its employees, the community and work ethic stands out. We've consistently been recognized as a Best Places to Work in Virginia and as the Greater Richmond Chamber's Community IMPACT award winner. Partner with us and your business will stand out too.
Today, We Serve …
Fahrenheit Advisors serves hundreds of companies across a range of business fields, including…
Middle-market companies
Professional Services
Construction
Manufacturing
Nonprofit organizations
Healthcare
Technology
Emerging growth companies
Owner-operated and family businesses
Private equity-backed companies
Government entities
And many more