Succession Planning: The Great Resignation's Elephant in the Room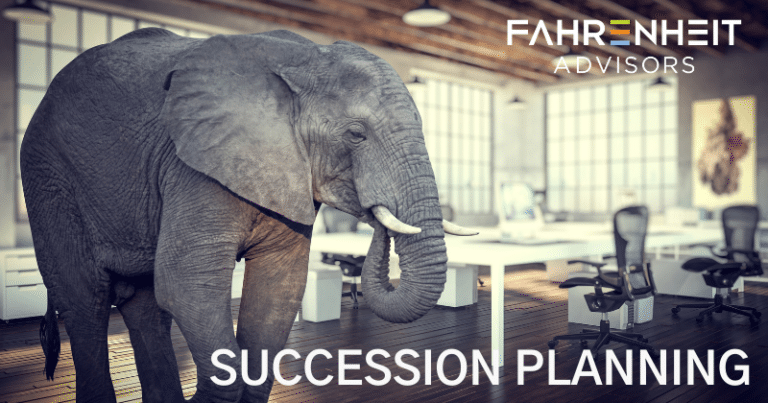 The Great Resignation, combined with workforce shrinkage from factors like retirements and population shifts, has put small and midsized companies in a recruitment crisis.
As a result, the pressure is on for companies to take an honest look at how they got here, how to fix it, and how to prevent it from happening again. And while many leadership teams are rightfully focused on recruitment, compensation, and retention strategies, there is an elephant in the room that is still failing to be addressed.
The elephant's name? Succession planning.
In today's environment, where many employees are retiring as soon as they become eligible and others are jumping ship thanks to pandemic-related changes coupled with inflation, having a succession plan is more important than ever.
Just like recruitment and retention strategies of recent years, succession planning has been turned on its head. The succession planning we're called to achieve today needs to account for the many different forces shaping modern workforces — many of which triggered the Great Resignation in the first place.
What worked two years ago is now out the window. Employees are reassessing their relationship with work, their income needs, and their ethical and professional expectations of business leaders. While larger salaries, better benefits, and a bigger spend on employee engagement helps get new-hires in the door, the long-term impact to succession planning is becoming a terrifying prospect, especially when the core issues at hand are not being addressed.
6 Tips for Successful Succession Planning
It's time to be strategic about the long-term impacts of the Great Resignation. Here are some tips for successful succession planning in today's dynamic and volatile business environment:
1. BE AGILE AND THINK HOLISTICALLY
The world does not stop evolving and neither should your succession planning. Boosting your employees' skills comes in all shapes and sizes and what is a great idea today may not work next week. So, it is no longer sufficient to manage the pipeline for senior leadership and business' critical roles only.  This can be crucial for short-term business continuity, but it does not contribute to long-term competitiveness or growth. Just like the supply chain crisis is driven by demand, limiting resources to only meet the demand is not sustainable within the current job market. Organizations must be strategic and agile, able to shift gears at any moment, or succession planning will not work.
2. SHORE UP YOUR FOUNDATION
Effective succession planning is the creation of a formalized development path but with many possible outcomes. Ensure your company has the tools in place to support those various paths, including performance management automation, mentorship programming, performance criteria, business objectives, and most importantly, budget.
3. BE PROACTIVE BY BUILDING REDUNDANCY
By never assuming employees are "locked" in their roles you'll always be prepared for unexpected transitions. Develop plans now for replacing leaders at all levels and across the tenure spectrum. Even when your leaders are satisfied, engaged, and feel valued, life can always toss a curveball. For all critical roles, protect your business by developing several people who can step in when transition occurs. Build the organizational resilience you need to adapt and respond to shifts, resignations, and retirements, both planned and unexpected.
4. BUILD A GROWTH CULTURE
Look at your company culture and evaluate where changes can create or enhance a growth-oriented focus. Does your culture support asking questions? Does your culture value the learning that comes from making mistakes? Does your culture reward employees who stretch and challenge themselves? Does your culture approach criticism constructively? The answers should all be yes. Developing and guiding new knowledge are futile unless the organizational culture can also be transformed. Future leaders cannot emerge out of an organizational environment that is not conducive to learning or an environment where they are not allowed to fail.
5. EVALUATE LEADERSHIP
Does your company's leadership support succession planning and a growth culture? For success, every leader must be on the same page. If a leader is uncomfortable with the idea of preparing someone else to step into their role, they may no longer be the right fit for your organization.
6. BE TRANSPARENT
Succession planning shouldn't be a secret! Talk about it openly and often. Tell employees why it's important, what's in it for them, and how it benefits the business. Share how you're making it a priority. Collaboratively enroll employees by seeking their ideas and input on your progress. And, most importantly, celebrate successes both big and small.
If you need help creating an action plan for any — or all — of these succession planning steps, you're not alone. Fahrenheit is here to help.
HOW FAHRENHEIT CAN HELP
Fahrenheit's team of experts is ready to help you address succession planning to protect the future of your business. In addition to evaluating where you are today and developing a plan to initiate or refocus your program, we can help with several specific areas on your succession planning to-do list:
WHO AND HOW: We will help determine who to develop and how to do it. This includes skill gaps that will need to be externally recruited as well as internal development of current employees, all with redundancies built into the plan — because we can assume turnover will continue, and you need to be prepared. In addition, we can help build the foundation you need to fully support a succession planning program, from policies and procedures to compensation and benefits.
LEADERSHIP & CULTURE: We will work with your leadership to help you better understand the demands of the new workforce by creating inclusive and psychologically safe cultures. This is where DEI and culture change become paramount to retention for succession planning purposes.
COACHING & TRAINING: We will take your current and emerging leaders to the next level. From leadership effectiveness and strategy to DEI and culture changes, we work with both leaders and teammates to overcome challenges, clarify goals, and achieve improvements.
DATA & AUTOMATION: We will help you leverage data and implement automation to streamline succession planning. It's a critical piece to automate your hire-to-retire processes. Read more on business process automation focused on human resources in a recent blog by Fahrenheit Co-Managing Partner and Co-Founder Keith Middleton: "Automate Hire-to-Retire Processes to Stay Competitive."
Let us help you put solutions into action now, to not only get you out of the crisis cycle caused by lack of retention, but also to position you for the long-term success on which your future depends.
Fahrenheit is here to help! To find out how we can help you initiate, elevate, and automate your succession planning to solve your recruitment crisis, contact us today. Our team of seasoned, C-level executives and consultants is here to help you find the straightest path forward.
About the Author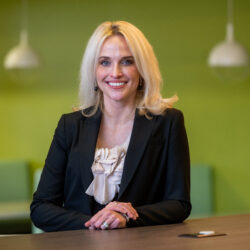 Laura Bowser leads Fahrenheit's Human Capital Practice. She addresses the HR strategies and pitfalls of creating a work environment that generates innovation, productivity, and inclusiveness—talking about the real, hard choices that business leaders must make, and how to communicate those decisions to boards, executive teams, and employees.