How Geography Affects Employee Compensation Philosophy
While 2022 brought back some sense of normalcy to the working world, the pandemic's aftermath still wreaks havoc in the world of compensation. Even companies accustomed to dealing with varying cost-of-labor rates based on multiple office locations face new challenges with remote and flexible work schedules.
The bottom line is this: if employees are working in multiple geographic locations — whether in an office or remotely — you need a geographic compensation philosophy that meets employee needs while also allowing your company to attract and retain top talent in a tight marketplace. (For ideas on attracting/retaining talent, see the two-part series by Laura Bowser and Kelly O'Keefe "How Brand and Culture Affect Recruitment and Retention.")
An established philosophy allows companies to be consistent in their approach to compensation for all employees. It reflects the culture of the company and helps with recruitment and retention.
What is the "best" philosophy for your organization? Compensation philosophies for companies with one location and no remote workers will look very different than philosophies for companies with multiple locations and a mix of office and remote workers throughout the country. Answering the following questions will help you develop an effective philosophy:
Human Resources Factors
Are you centralized or decentralized?
Do you have the manpower to administer multiple structures?
Will you treat exempt and non-exempt jobs differently?
Do you want to encourage employees to work in the office? From home?
Are you concerned about losing the next generation of managers to remote work?
Do you know your employees' expectations?
Financial Considerations
Are you going to base geographic differentials on cost-of-labor or cost-of-living?
Will you save money by allowing employees to work in lower cost-of-living locations?
Can you afford higher wages for employees working in more expensive locations?
Are you going to pay for travel? Home technology? Home office furniture, etc.?
Government Constraints
Are you required to publish pay ranges/scales?
Are there different minimum wages in each state in which you operate?
Do local laws affect jobs in different ways?
Geographic differentials can be based on office locations, employees' homesteads, grouped by cities with similar cost-of-labor rates, by region, etc. Another consideration is how remote work affects current incentives. If your perks were largely in-office before the pandemic, do you need to re-think your approach? (See "Incentives That Motivate Employees and Attract Talent" for incentive ideas.)
Regardless of how you decide to structure your geographic compensation philosophy – make sure your philosophy is:
In compliance with all local laws
Affordable
Realistic to administer
Applied consistently
Factors that become multipliers when supporting the compensation philosophy of your organization: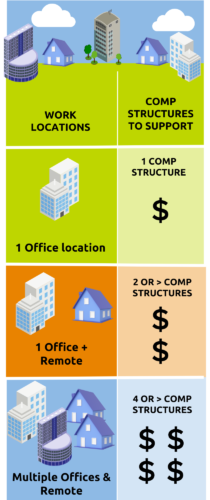 Multiple office locations
Each remote worker
The markets where your additional offices and remote workers are located
This infographic illustrates how supporting these resources increases the complexity of a compensation structure which supports in-office and remote workers.
Ready to establish a compensation philosophy that meets the needs of  your geographically dispersed workforce? Ensure fairness, consistency, and support of recruitment and retention goals with Fahrenheit Advisors. Connect with us and learn more about our compensation expertise.
About the Author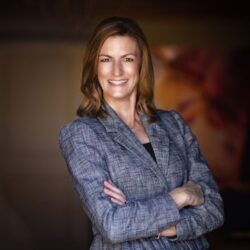 Merryman Putnam partners with clients to provide compensation expertise including total compensation measurement studies where her expertise ranges from creating a compensation philosophy to market review, analysis, and recommendations. She has worked with public, private, government, tribal, and nonprofit entities in a variety of industries including aerospace/engineering, banking/finance, healthcare (including FQHCs), insurance/workers' compensation, manufacturing, technology, and utilities.