Business Strategy – COVID-19 Quick Tips for Turbulent Times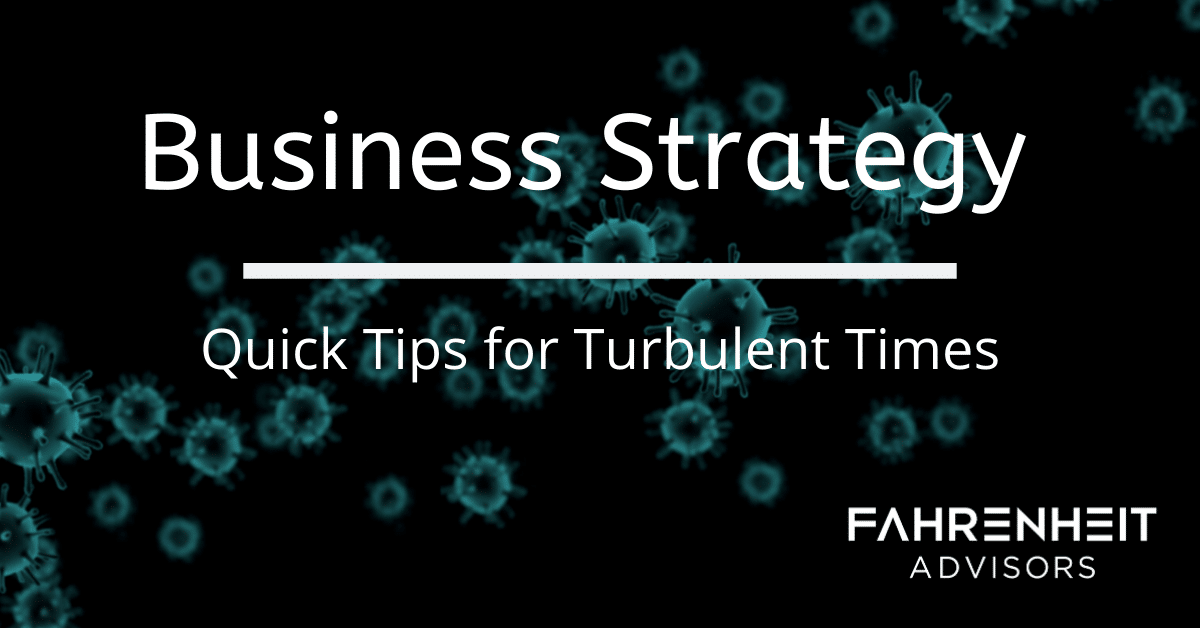 These are unprecedented and turbulent times for sure. Here are a few things I focus on when navigating crisis times in business:
Cash is King – Know your liquidity position, no matter what! Map out your cash flows for the next 30-60-90 days. Find ways to reel in what you are owed and manage what you pay out.
Don't Panic, but don't ignore what's going on around you – Writing down the things that have changed for you and taking your best estimate at the dollar magnitude really helps put things into perspective. Look at added costs, declines in revenue and the value of assets.
Communicate, Communicate, Communicate – Be present and make sure you do everything possible to eliminate surprises with your stakeholders. You don't have to have all of the answers but being silent is not good.
Size up your Resources – Especially the resources that are available to you from outside your own balance sheet – think insurance coverages, stimulus, federal programs, off balance sheet resources, relationships.
Find ways to Play some Offense – Are there things you can do to change your delivery method or go to market strategy to buy time. Are there ways to create a temporary stand still.  Where can you pivot. Think outside the norms.
Our team is seasoned in navigating challenging business situations and turbulent times.  The team at Fahrenheit Advisors like Lud Kimbrough, Jim Woodward, Laura Bacon, Sheila Hill-Christian, Bill Kaluza, Sam Rasoul, Keith Middleton, myself and others are here to help.  For free, if you want to chat through any of the above as it relates to your specific business situation, give us a call at (804) 955-4440 or call me directly at (804) 475-1309. cbowman@fahrenheitadvisors.com. We are here to help.

About the Author
Chip Bowman is a Managing Director responsible for developing Fahrenheit's business in Virginia and providing clients with customized strategies for solving their challenges and growing their business. He is skilled in leading operations and finance functions across numerous public and private industries including banking, healthcare, family business, education, manufacturing, and real estate development. He has a demonstrated ability to drive growth based on strategic vision and management of daily operations through process improvement, performance management, systems building, financial initiatives, and policy design and implementation. Chip also has experience in turnaround situations for middle market clients.