Achieve Your Business Goals by Year End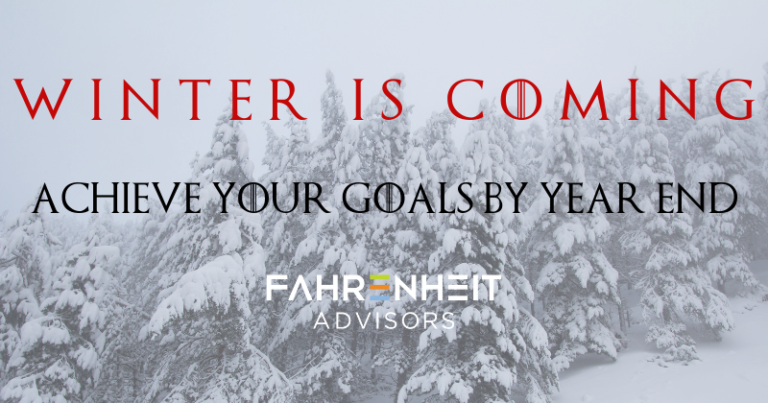 There's no escape. Winter is coming.
Like the white walkers in Game of Thrones, the goals you set for yourself and your business earlier this year, the ones you haven't looked at since March, stalk you as the days get shorter, colder… darker.
But there's still time to ward off the night, accomplish what you set out to do, and turn the year's 4th quarter into a bonanza of productivity that sets you up for a bright 2022.
Did you pledge to be a more effective, empathetic leader?
The leadership coaches in Fahrenheit's Human Capital practice can sharpen your skills with individual or team coaching.
Did you promise to integrate financial systems and improve reporting?
The process automation experts on our Finance & Accounting team can slay that demon, and deliver accurate, timely financials that help you make the best decisions possible.
Are you falling short of your 2021 revenue goals?
Fahrenheit's Sales Transformation practice can revitalize your sales strategy with custom playbooks, training, and motivational approaches that close more deals this year and next.
Whatever might have slipped behind you during this crazy year, don't let its closing quarter's anxiety overcome you. Fahrenheit Advisors, like the Night's Watch, is here to help you defend the wall. We can assess needs and deploy available resources – now – that can help you get things done.
Ready to close out the year with incredible momentum? Contact Fahrenheit Advisors to put a team together and get to work. Email experts@fahrenheitadvisors.com.