Consulting Team from Cipher Joins Fahrenheit Advisors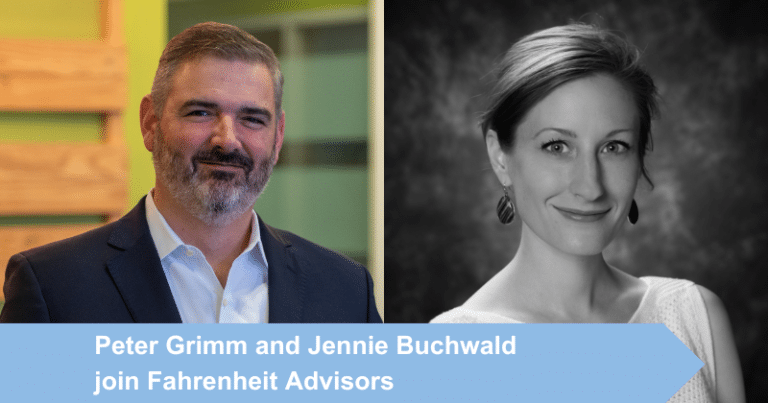 Peter Grimm and Jennie Buchwald strengthen Fahrenheit's management consulting and strategic advisory Team with specialized competitive intelligence skills
Fahrenheit Advisors announced today that Peter Grimm, president of Cipher, and Jennifer Buchwald, manager at Cipher, have joined Fahrenheit's Business Advisory practice.  The addition will enhance the firm's management consulting services for middle-market companies with strategy expertise, disruption planning, disruption preparedness, as well as competitive and market intelligence capabilities. Adding to the team will help Fahrenheit clients maximize the value of their data, improve their strategic decision-making, and accelerate their growth.
Grimm joined Cipher in 2014 after leading teams at Deloitte Consulting that delivered strategic planning and business transformation services. Prior to Deloitte, Grimm served in the US Navy and as a government counter-terrorism analyst.
His combination of national security experience and commercial strategy consulting helps clients anticipate disruption, understand their competition, and compete more effectively. Grimm holds a B.S. from the US Naval Academy and M.S. from the National Intelligence University.
Buchwald is a competitive intelligence professional whose strategic insights have guided client decision-making for more than 15 years. Her career includes engagements with multiple Fortune 100 organizations in various industries, from high-tech to grocery and retail. With a formal education in philosophy and an MBA from Northern Kentucky University, Buchwald brings a holistic understanding of business challenges and forward-looking observations to her clients and teams. 
"As Cipher transitions to new ownership, joining Fahrenheit Advisors allows Jennie and me to continue doing what we love, helping business leaders make the best decisions they can in increasingly complex and competitive markets," Grimm said. "We're excited to support and collaborate with Fahrenheit's business advisory team to deliver clients sound, strategic solutions to the challenges they face."
"With automation and business intelligence technologies colliding with post-pandemic workforce trends and an uncertain economic outlook, businesses will increasingly look for outside expertise that can assess operations, develop strategy, and implement the solutions business growth calls for," Mark Vita, leader of Fahrenheit Advisors' Business Advisory practice, said. "Peter and Jennie, along with other recent strategic hires, put Fahrenheit's management consulting team in higher demand from middle-market companies seeking the straightest path forward."
About Fahrenheit Advisors
Founded in 2010, Fahrenheit Advisors offers middle-market organizations a solutions-driven approach to consulting. The firm's Business Advisory, Finance & Accounting, Human Capital, Sales Advisory, and Executive Search services help leaders find the straightest path forward. With more than 140 employees and consultants, Fahrenheit's seasoned team of experts fills gaps, solves problems, and delivers long-term, strategic solutions that fuel growth and increase value. More at FahrenheitAdvisors.com.
Contact: Christian Munson, (804) 441-8091, cmunson@fahrenheitadvisors.com.