HR Tips to Retain and Engage Employees Working From the Office or Home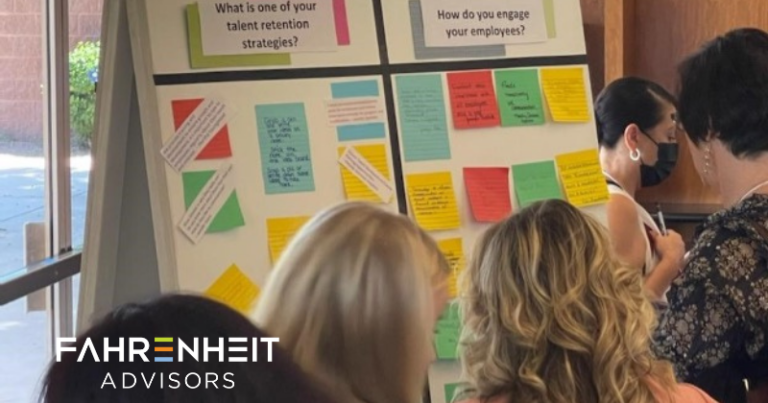 Hundreds of human resource professionals gathered in-person and virtually for the Annual Arizona SHRM State Conference on August 24-27, 2021. Dozens of visitors contributed ideas to the Fahrenheit Advisors' engagement board, which asked attendees three timely questions about employee retention, engagement, and remote work. Their answers follow, providing insight that the broader HR community may find helpful as the profession addresses these issues across the business landscape.
What Makes remote working successful for your employees?

Provide Wi-Fi compensation incentives.
Provide clear expectations and excellent communication.
Celebrate successes and milestones remotely, similarly to in-office celebrations.
Provide equipment that allows jobs to be done at home as effectively as in the office
Leadership needs to keep employees informed about in-office happenings, return to work thoughts and, in general, be in touch.
Create opportunities for successful work-life integration in addition to balance.
Demonstrate appreciation in a way that each employee/individual feels cared for.
Keep the company mission, vision, and values at the core of all employee engagement and interaction.
What is one of your talent retention strategies? 
Talk to employees regularly to learn their needs and interests.
Show genuine interest in who they really are. Do you know more about them than just their job? How do they like to communicate?
Ensure professional growth by creating a personalized development plan to review semi-annually to track progress and allow for modification.
Ensure that talent development and career pathing opportunities are available.
Provide team-building events and opportunities.
If possible, offer a hybrid work option.
Offer benefits and bonuses.
Provide a career mobility program.
Give random surprises.
Offer a flexible work schedule.
HOW DO YOU ENGAGE YOUR EMPLOYEES?
Know what is truly important to each individual. What is/are their current compensation, benefits, work flexibility arrangement, and career advancement opportunities?
Conduct annual stay interviews.
Install recognition awards.
Walk with and thank employees personally.
Send a weekly positive thought or meme.
Train leadership on employee engagement.
Provide a list of meeting ice breaker suggestions.
Bring food into the office.
Smile at co-workers.
Hold regular social events.
Connect with Rachel Lutowsky, Director, Fahrenheit Advisors' Human Capital Practice, to discuss how Fahrenheit can help you develop your own strategies for attracting, retaining, engaging and developing your most precious resource – your people: Rlutowsky@FahrenheitAdvisors.com.