HR Professionals Share Best Practices at SHRM Conference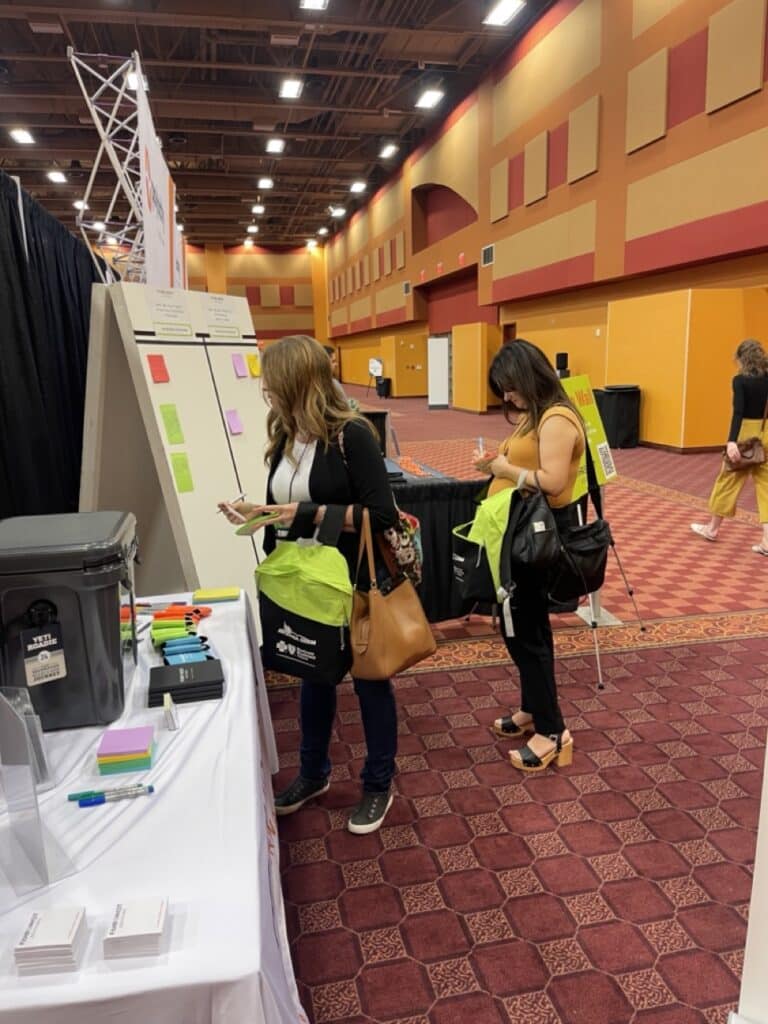 The Society for Human Resource Management (SHRM) conferences provide opportunities for human capital professionals go to connect with their colleagues and obtain new learnings to grow their people and ultimately their organizations. Fahrenheit Advisors was an exhibitor at this year's annual Arizona SHRM state conference in September where we displayed an engagement booth for attendees to share best practices with fellow attendees. What follows is a summary of the two prompts we asked which might be helpful for any HR professional.
When asked for some best practices for managing after a crisis, the following were added to the engagement board.
Best Practices for Managing After a Crisis
Take care of your people first
Including everyone in virtual team building
Offering a health coach to employees
Ask questions about what each employee is going through
Learn from past mistakes and successes.
Practice W.I.N. – What Worked? What needs to be Improved? What can we do better Next time?
Open, honest, and regular communication
Let employees know you value them
Remember that the person you managed prior to the crisis is not the same person today
Develop a plan and have a crisis mitigation team in place before something actually occurs
Following the crisis, revisit what can be changed moving forward
Realize employees will handle crisis differently and will need to assimilate to the new normal
Ask employees for feedback and ideas
Have empathy for one another
These are the talent attraction and retention strategy ideas shared by conference attendees.
Talent Attraction & Retention Strategies
Review compensation, consider sign on bonuses, and increase referral program awards
Gather ideas around job descriptions
Open communication from the beginning to the end of the recruitment process
Develop a coaching culture by training your leaders and managers to use skills and techniques to better connect with their employees
Hire for fit.  Train for skills.
Use feedback from exit surveys
Have multiple departments involved with selection and onboarding
Full cycle engagement, stay transparent and conduct regular formal 1:1 check ins
Pay above market for non-exempt roles
Offer commuter benefits
Provide healthcare benefits on day 1
Give employee stock for full time hires
Hold monthly job fairs for hard-to-fill positions
Bring food trucks to the office
Pay temps for holidays
Offer a lunch with the CEO
Make your staff the center of attention and they will tell everyone
Offer great benefits
Create an office environment that feels homey with an employee lounge
Unlimited PTO
Hold monthly team meetings and happy hours
Provide flexible work schedules
This impressive list of ideas from our colleagues demonstrates a lot of creativity and application for various sized companies. A related Fahrenheit article about employee performance reviews takes a deeper dive into how more regular employee feedback sessions can lead to enhanced employee satisfaction. Regular feedback versus waiting for an annual performance review has a significant positive impact. Gallup has found that when managers supply weekly (vs once/year) feedback, team members are:
5.2x more likely to strongly agree that they receive meaningful feedback
3.2x more like to strongly agree that they are motivated to do splendid work
2.7x more likely to be engaged at work 
As your human capital partner, we can provide customized solutions to enhance your crisis management as well as your talent attraction & retention strategies.  Here is a full list of the human capital services we can perform for your organization. Contact us today at Experts@FahrenheitAdvisors.com.