8 Retention Strategies to Halt Employee Resignations in 2022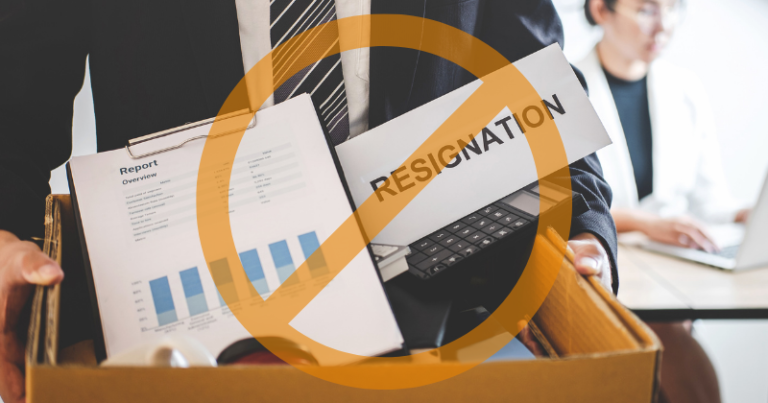 The December Bureau of Labor Statistics' report shares data from October which indicates that the "Great Resignation" may have peaked. That doesn't mean HR leaders should be complacent. If we consider that the Great Resignation also includes those considering quitting their jobs, it's going to be critical to have a strong retention strategy in place at your organization. How many in the labor force have made a resolution for 2022 to get a new job or start a new career? As we enter 2022, organizations need to be proactive to avert the "Resignation Resolution."
As described in a December article in Harvard Business Review, the retention challenge is particularly painful for middle-market or midsize organizations which may not have the broad visibility, the financial resources, or sizeable HR departments. In fact, nearly half the midsize firms surveyed by AchieveNEXT admitted they lack the tools to tackle their retention challenges.
No matter the size of your organization, now is the time to put close focus on the employee experience (EX) and incorporate a solid retention strategy.
Pay is not enough to retain top talent these days. Employees want to have a sense of purpose and do work that is meaningful. How do you design your organization's employee experience in a way that encourages retention? EX is the journey within your organization that begins pre-hire and doesn't end until the exit. It reaches across all business functions, with your corporate culture at the heart, and is key to developing your retention strategy.
There are many areas to consider to keep your organization on track and deflect the "Resignation Resolution." Eight are directly tied to EX, and are important in creating loyal, motivated, and engaged teams.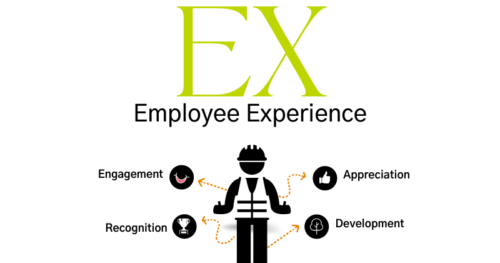 8 STRAtEGIES TO RETAIN EMPLOYEES
1.) Employee Engagement
Do your employees feel like valued members of the team? Is their work meaningful to them? Listening to employees and responding to their interests and concerns is key to effective employee engagement. The benefits of employee engagement not only include higher retention rates, but also lead to better customer service and an increase in overall productivity. Do you have regular check-ins with your employees outside of performance reviews? Would your organization benefit from mentoring programs? For successful employee engagement, organizations need to understand what drives employees and measure engagement efforts.
2.) Employee Recognition
Whether delivered in a formal manner (a promotion, an award, a bonus, a raise) or informally (thanking an employee in person after a big win), employee recognition is key to promoting a positive workplace. Recognizing individuals and teams, and showing appreciation, are great ways to engage and retain your employees. Recognizing accomplishments, results, work anniversaries, hosting team lunches to say thank you at the end of successful project, or simply sending a handwritten "thank you" note are just a few ways to promote a positive culture as well as reinforce positive behaviors and actions. Recognition should be specific and proportionate to the achievement. A little recognition goes a long way, and managers can have a big impact by being role models.
3.) Employee Appreciation
You might hear the words recognition and appreciation used interchangeably. Although both are important to employee engagement, there is a difference between the two. Recognition is given based upon performance or results, while appreciation is more about expressions and feelings. Appreciation is less about accomplishments, and more about who employees are as human beings. Praise your employees for a job well done or for supporting a colleague through a tough assignment. Thank them on their work anniversaries for being a valued member of the team. There are many ways to show appreciation effectively, such as communicating with employees on a personal level, periodic "check-ins" to show you care, telling them what you value about them, and truly listening to what they have to say. Both recognition and appreciation play a critical role in employee engagement, but they are given for different reasons. Good managers provide both!
4.) Stay Interviews
If you are entertaining a counteroffer from a current employee, that employee has already divorced themselves from the organization. One way to avoid finding yourself conducting exit interviews is to incorporate a "stay interview" program to show employees you care and value their opinions. Stay interviews build trust and transparency, and they demonstrate an investment that yields long term results. The insight and trends you glean from stay interviews can help you strategize and improve the employee experience within your organization. Amanda Maino, senior recruiting consultant at Fahrenheit Advisors, shares these insights around stay interviews as a valuable retention tool here.
5.) Development
Don't wait for your employees to decide the best way to move up is to move out. Give them reasons to stay. Explore career paths and internal mobility with your employees. Professional and personal development are a big part of the employee experience and are key to retention. Make personal and professional development and promotion planning part of every performance review. At Fahrenheit, we use tools such as a Personal Values List with clients to help organizations gain clear insight into what each employee rates high relative to their satisfaction in the workplace as compared to what the manager believes is important. From performance management to training opportunities, take the time to invest in your employees and enable them to grow.
6.) Streamlining Processes
Has your organization undertaken a Human Resources Assessment to review your HR processes and procedures? Are there tasks and processes that could be streamlined or automated in your organization, such as onboarding and performance reviews? Do your employees have the tools they need to perform their jobs efficiently? Think of your employees as your customers and create a more customer-oriented EX.
7.) Culture
As mentioned earlier, corporate culture is at the heart of the employee experience. Does your organization provide a sense of purpose, belonging, and community? Are you making efforts to incorporate Diversity, Equity, and Inclusion (DE&I) as part of your corporate culture? Leadership and management practices have the greatest impact on corporate culture. Take time to build relationships with, and among, your employees. Communicate the vision and mission of your organization across the entire organization. Leadership must be fully engaged and "walk the walk," not simply "talking the talk."  Employees want to trust and believe in their leaders and the organization as a whole, and they thrive on having a feeling of purpose.
8.) Benefits
The health and well-being of employees should be at the forefront. In addition to health and dental care, there are other important and valuable components. For example, organizations today are looking for ways to increase their benefits portfolio around mental health awareness, providing tools and resources to identify risks, and connect their employees with the right resources. Does your organization have a robust benefits package, with physical, mental, and emotional well-being at the core? Do you offer an Employee-Assistance Program (EAP)? Do you offer a vested 401(k)? Having a competitive benefits package plays a vital role in retention as well as recruitment. Consider surveying your employees so that you can offer a customized package to meet unique needs. Benefits come at a cost, but turnover can be even more costly, so be sure to review your benefits package regularly.
For more on the retention and engagement of employees, view this virtual seminar with Blue Ridge Bank and Fahrenheit's Melody Donovan-Hopkins and Jennifer Finn.
Retention and employee engagement are constant themes and critical to organizational success in our "new normal." Do you need assistance enhancing your employee experience or with your retention strategy to avoid the "Resignation Resolution?" Fahrenheit Advisors can help! Contact us today at Experts@FahrenheitAdvisors.com.
About the Author
With more than 25 years of experience, Katherine Zampolin provides a broad range of experience in leadership development, coaching, corporate culture, and talent management. Through her authentic and practical approach, she partners with organizations to help them strengthen their culture, engage and develop their employees, and reach their goals.  Katherine has facilitated a broad range of training programs across all levels, with topics ranging from leadership skills and organizational change to diversity and inclusion and team building.