Stay Interviews Improve Retention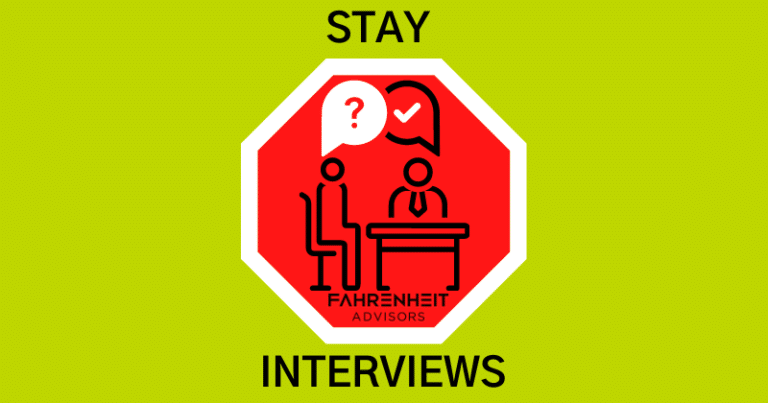 For businesses, attracting and acquiring top talent are often very challenging and require significant resources. Recruiting can be costly and resource intensive. The cost of employee turnover is high for businesses. This adds significant operational cost to employers, lessening growth and profit. Turnover costs include those of the termination, recruitment, vacancy and learning curve. According to the Work Institute's 2020 Retention Report, that equates to an average of $15K per departure of a salaried employee.
voluntary turnover Statistics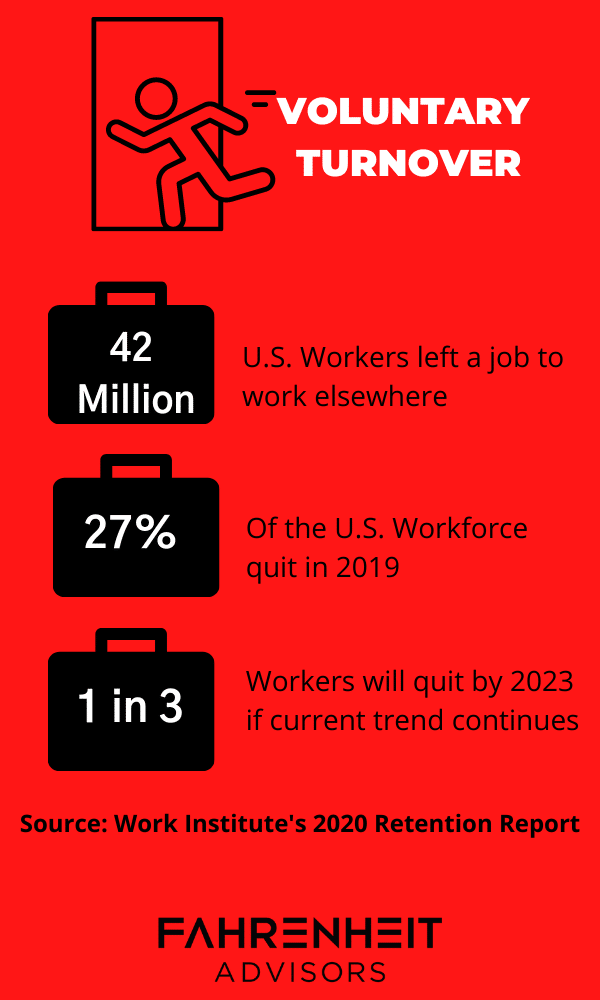 According to the same study, 78% of the reasons employees left were preventable by the employer.
The easiest solution is obvious, but most employers don't think about it- Retain your employees! In this market, that is easier said than done. With the challenges presented to us by the pandemic, employees, especially female employees, are juggling the complexities of virtual learning and increased caregiving responsibilities for their families in addition to work.
The 2020 Women in the Workplace Study by McKinsey and LeanIn.Org suggests that 2 million women may drop out of the workforce. If you have looked at unemployment numbers recently, that may surprise you. But do not let yourself get lulled into complacency around employee retention due to a high unemployment rate. Retaining your top talent is as critical now (if not more) as it has ever been.
Passive candidates are poached by recruiters and hiring managers offering new opportunities. Even happy employees will often entertain learning about a new opportunity because there is nothing to lose. Employers should have the same conversations. These conversations are often called stay interviews.
Stay Interviews
Stay interviews can help managers better understand how their employee is feeling in their role and what is most important to them in the future. You might be thinking, these conversations could really open up a can worms! But wouldn't you rather know how to better position yourself for replacement planning versus being caught off guard during a busy period for the company?
For larger companies, I'd suggest identifying your top performers, industry experts, and crucial to the business employees. These are the employees you need to pay the most attention to and it is likely that they have a message from a recruiter sitting in their LinkedIn inbox right now.
Stay interviews are best conducted in an environment where the employee feels comfortable being transparent. The employee should be the one doing 90% of the talking in these conversations. Sometimes giving them an opportunity to feel heard can go a long way. Help guide the conversation by asking simple open-ended questions. The Society for Human Resource Management (SHRM) has a great list of stay interview questions for these meetings.
Look for Trends
With the information received from conducting stay interviews, look for trends in reasons given for entertaining new opportunities. Here are a few examples:
MANAGEMENT – Consistent feedback pointing to management issues? Explore some supervisory training and leadership coaching.
COMPENSATION- You could benefit from a compensation study.
ENGAGEMENT- If employees express fear of not meeting performance expectations, you might need to enact some engagement strategies.
Now your company has the knowledge and insight to where to potentially cross train or begin developing candidate pipelines. Workers are more likely to stay and remain engaged with companies who identify and create optimal conditions and with those that have actively remained flexible in this unprecedented time.
How we can help
To support your organization with the challenges listed here, Fahrenheit's Human Capital practice has expert consultants in the areas of:
Leadership Coaching & Development
Diversity, Inclusion & Equity
Talent Management
Employee Engagement
Compensation Studies
Reach out to us at experts@fahrenheitadvisors.com to connect with one of consultants to discuss your organization.
ABout the Author
Amanda Maino is a skilled human resources professional with expertise in recruiting, developing, and engaging employees across a variety of industries including professional services, higher education, transportation, and technology. Her broad understanding of human resources issues combined with a focus on benefits, compensation, and wellness programs allows her to implement Fahrenheit's strong, customized hiring process. She partners with clients to understand their business, industry, and culture and then strategically sources qualified candidates