Growth, Taxes & Regulation: What CFOs Need To Be Thinking About in 2021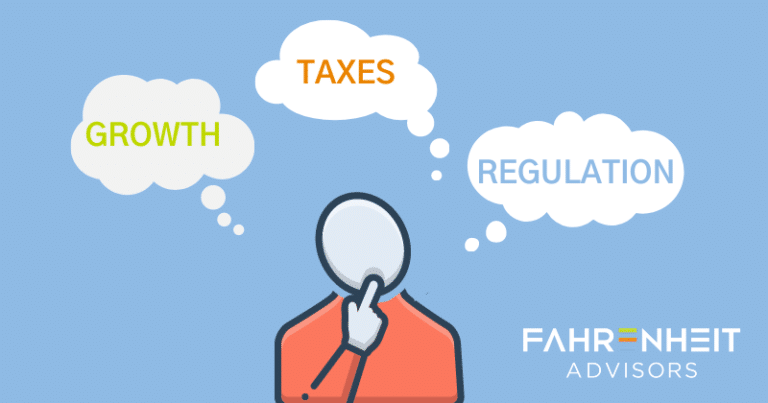 Q1 is done. Planning is baked. Strategy is in focus. And now it's time to start advancing. The road ahead for 2021 will have both opportunities and obstacles — some predictable, some not. Let's talk about what we know right now.
While Dorothy was primarily concerned with lions, tigers and bears in Oz, CFOs in 2021 should be keeping their eyes on growth, taxes, and regulation — as well as a few other things, lest we forget about the flying monkeys.
To prepare and position your business for success, here's what CFOs should be thinking about in 2021.
What CFOs Should Be Thinking About in 2021
Let's get you up to speed on what CFOs should be thinking about in 2021:
1. GROWTH IS ON THE WAY
Can your business leverage an economic boom? You can't ignore it. Every headline right now is excitedly cheering about post-COVID economic recovery and growth. It's likely #1 on every list of what CFOs should be thinking about in 2021. In fact, in a recent survey 81 percent of CFOs indicated they were optimistic about U.S. economic recovery and 87 percent anticipated increased revenue in 2021. Looking at the numbers, as is our habit, another survey reported finance chiefs expect revenues to rise by an average of 6.9 percent in 2021. But take heed: All is not entirely rosy. Risks and concerns remain.

To learn more about getting ready for post-COVID economic growth, check out our blog article: America's Economy Is About to Roar: Get Ready for Post-COVID Economic Growth.
2. THE TAX MAN COMETH
How will potential tax increases impact your business? With a new administration comes new tax policies. Changes are likely afoot for increased federal corporate tax rates in the U.S. as well as taxation of global companies — both of which could have negative consequences for business expansion, hiring and wage growth, investments in R&D and innovation, and U.S. competitiveness in the global economy, according to a new Business Roundtable survey of CEOs. In the same survey, 98 percent of CEOs said President Biden's proposed tax hike from 21 percent to 28 percent would have "moderately" to "very" significant adverse effects on their companies' competitiveness.
3. SADDLING UP FOR THE REGULATION RODEO
How will you manage regulatory changes? Regulatory changes are on the horizon, and 67 percent of CFOs in a recent survey said regulatory risks will be more pressing over the next four years under President Biden. Regulatory change isn't a surprise. Like tax changes, they're another predictable action of a new administration. But what we can't predict are the specifics. Accounting rules and PCAOB audit regulations are two potential high-profile target areas. Changes in environmental and energy regulation as well as foreign trade regulation could also have a significant impact on operations, costs, efficiency, and profitability for businesses operating here and abroad.

4. PLAYING THE INFLATION GAME
How will your business prepare for rising costs? Inflation: Will it or won't it? If you're worried about inflation, get in line. Inflation fears are growing. Among CPA decision makers, inflation worries nearly doubled from 24 percent in Q4 of 2020 to 44 percent in Q1 of 2020, according to a recent AICPA Business & Industry Economic Outlook Survey. Labor costs are a top concern, especially if the federal minimum wage gets a boost — and three proposals are in the spotlight at this writing. But wait, there's more. Experts say pent-up consumer demands paired with trillions in government spending will cause a sustained uptick in inflation, while supply chain bottlenecks, supply shortages, and surging input costs will cause production pressures that increase the risk of an acceleration in consumer inflation. On the list of what CFOs should be thinking about in 2021, this is definitely one to file under "stay tuned."
5. OFFICES ARE A-CHANGING
How will your business respond to a "return to work" in 2021? Remote work defined the pandemic, and companies are eyeing office space reductions as they continue to reimagine where and how workers get their jobs done. Shifts to hybrid workplaces and permanent work-from-home models are on the table. What CFOs should be thinking about in 2021 is how their offices may — or may not — change. In a recent KPMG survey, more than half of CEOs indicated they would reduce office space or shift to hybrid workplaces. Specifically, 17 percent will downsize their footprint, 14 percent will examine shared office spaces, and 30 percent will have most employees working remotely either 2 or 3 days a week. On the other hand, some companies, like Google, are all-in for office space in 2021 — and even expanding it. Google will spend $7 billion on new offices and expanding data centers this year.
6. THE DRIVE TO DIGITAL TRANSFORMATION
How will you take your digital transformation to the next level? The pandemic forced many a CFO to take a hard look at technology. Those who took the plunge on making essential investments in operational efficiency and workforce productivity will continue to seek ways to maximize returns in 2021. And those who didn't will be looking to keep up with the Joneses in the year ahead. A whopping 75 percent of CFOs in a recent survey say they plan to allocate more resources to digital transformation in 2021, with 37 percent indicating the increased allocation would be "large."  According to Forbes, AI and machine learning automation, cyber security, and data analytics lead the pack of priorities. Digital supply chain management systems are also being teed up to impact profitability and analytics for the better.
WHAT'S NEXT?
Now that you know what CFOs should be thinking about in 2021, what's next? The secret to success in the year ahead will be proactive scenario planning, flexibility, and innovation.
Next question: Do you have the staff and skill sets to manage the changes that will inevitably arise from these six areas in 2021?
No matter what the year brings, one thing's for certain: You can't click your heels three times and return to "normal." This post-COVID world is completely different than the one we left behind, and it will demand new strategies, new responses, and new thinking to succeed. CFOs have a once-in-a-lifetime chance to rise to the occasion.
To find out how Fahrenheit can help you prepare for growth, respond to change, and lead the charge toward innovation, contact us today. Our team of seasoned, C-level executives and consultants is here to help you find the straightest path forward. We're experts in tackling your most pressing issues, including: strategy, financial modeling, financial planning and analysis, change management, automation, innovation, search, and business advisory consulting.
about the author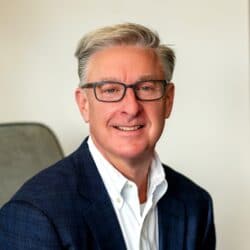 Keith Middleton is a co-managing partner and co-founder of Fahrenheit Advisors. He oversees the delivery of the firm's consulting and fractional financial management services, as well as risk management and operations. He is a member of Fahrenheit's Leadership Team. A seasoned corporate finance executive, Keith's expertise in organizational strategy and a newfound passion for entrepreneurism has helped Fahrenheit expand across multiple service lines and geographies