5 Ways a Fractional CFO Helps Accelerate Your Growth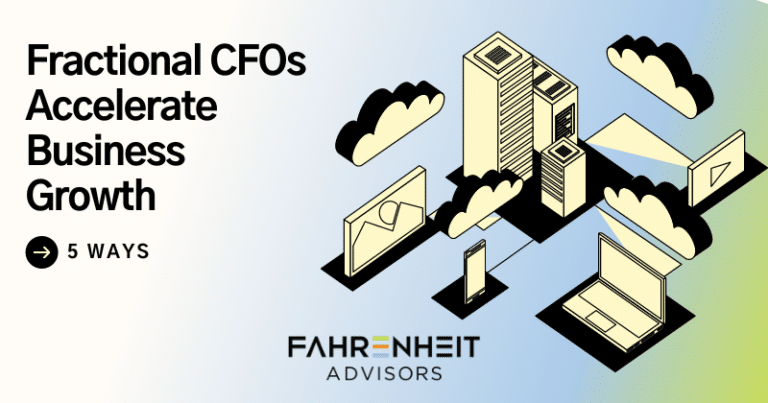 Fractional CFOs aren't just for start-ups anymore. Fractional CFOs are helping small and mid-sized businesses do everything from raising capital, maximizing cash, and entering new markets to getting a grip on lost profits and lost opportunities.
For forward-looking businesses, a seasoned CFO is a growth game-changer. And if you can't yet justify or afford one on a full-time basis, a fractional CFO will deliver the same insights and expertise to take your business to the next level — at a fraction of the cost.
Interested in growing? Here are 5 ways a fractional CFO helps accelerate your growth:
5 Ways a Fractional CFO Helps Accelerate Your Growth
The ultimate goal when hiring a fractional CFO is readying your business for what's next. Here's how a fractional CFO helps accelerate your growth:
1. Immediate Insights: Fractional CFOs quickly identify what your business is doing well and where you need to improve, so you can maintain and strengthen what's working and make changes to what's not. A fractional CFO's diverse background serving organizations of different sizes and levels of maturity means they have encountered a wide range of financial and business situations. They've "been there, done that." There's virtually no learning curve when they step into their role with your business, especially if they have direct experience in your industry. A fractional CFO is ready, willing, and able to strategically analyze and diagnose your financial operations to reveal the good, the bad, and sometimes – the ugly.
2. Actionable Recommendations: Fractional CFOs objectively assess your financial operations to deliver actionable steps for improvement. The key here is "actionable." They don't just point out what needs addressing, but detail how to adjust, ameliorate, eliminate, or otherwise fix those areas that need focus to improve the current health and well-being of your business and ready it for growth. Is your cash flow constrained? Are reports repeatedly late? When your current team lacks the time or expertise — or both — to find answers, a fractional CFO will deliver the short- and long-term solutions you need to put in place now.
3. High-Level Expertise: There's simply no substitute for the knowledge, acumen, and ability that comes from experience. As a seasoned executive, a fractional CFO's pedigree has been practiced and proven. They apply lessons they've already learned in tests, trials, and triumphs throughout their career. They're proficient in innovative problem-solving at all levels of business, and in everything from routine everyday tasks to complex analysis to big-picture strategic thinking. It's worth noting a CEO cannot successfully double-up as CEO and CFO, as happens in many early-stage companies — at least not for the long term. Adding a fractional CFO frees the CEO to focus on being the CEO, to the benefit of the business. A fractional CFO is a trusted advisor your CEO and your executive team can count on for valuable guidance on incentive plans, tax strategies, investors, raising capital, and more, especially in areas where there are in-house knowledge or experience gaps on your team.
4. Process Improvement: To scale your business, you need solid, repeatable financial processes that deliver timely results and reporting, including the insights that empower intelligent, informed decision making in all areas of your business. If you're not quite firing on all cylinders, a fractional CFO is the difference-maker to bring order, efficiency, and effectiveness to current processes and help design new ones to take execution to the next level. If you're already operating with well documented, well organized, and well defined processes, a fractional CFO can consider options to further streamline what's in place or implement business process automation to drive even better results.
5. Skill Building: A fractional CFO helps position your financial team do their jobs better. From processes and priorities to direct methodologies that will help your team improve its task performance, the end result is a higher-functioning team to keep your business thriving. Additionally, when you have loyal employees who need to boost their individual skillsets to advance their careers, an experienced CFO can offer mentoring and development to help them achieve their next upward move in your organization, boosting your team's loyalty as well as its effectiveness.
Take a deeper dive into how a fractional CFO helps accelerate your growth by contacting us for a one-on-one conversation today. We're ready to design a customized solution to help you solve your challenges and achieve your business' specific growth goals by pairing you with one of our experts who each bring more than 20 years of experience to your table.
For a list of specific scenarios to which a fractional CFO can bring value for your business, our blog "How To Know if a Fractional CFO Is Right for Your Business" shares 7 for you to consider.
You can also check out our blog "4 Things To Remember When Searching for the Right Fractional CFO" for tips on choosing the right one for you.
To find out how Fahrenheit's top-tier fractional CFOs can help you build your momentum to accelerate your growth and find the straightest path forward, contact us today to learn more about our team and what we can do for your business- Experts@FahrenheitAdvisors.com.
About the Author
Rob Keaton brings 25 years of experience as an accounting and financial executive across multiple industries and business sizes. His expertise includes core transactional accounting, financial reporting and analysis, budgeting and forecasting, project management, cost reduction strategies, technology selection and integration, cash management, internal controls, efficiency improvements, and regulatory compliance. His career includes senior positions in the financial services, construction, telecommunications, restaurant, and hospitality industries.