Why and When to Develop – and Revisit – Your Strategic Plan
Strategic planning can often be relegated to one of those basic business tasks that leadership engages in once a year and then forgets. After all, there is an inherent fear that too much planning will take away from the doing. But businesses that have really dug their heels into robust strategic planning can attest to it being so much more valuable than a distracting, check-the-box activity. What's worse is when a company goes through all the meaningful and rigorous work to develop the organization's identity, focus, and plan for the future, and then throws the file on a shelf where it collects dust until there's an organizational change that triggers a new look at strategy and goals.
Strategic plans should be living, breathing guidebooks that shape your communication – both internal and external; that define your mission, vision, and values; that create a common goal for the short- and long-term horizons; and provide guardrails so that leadership can make timely and relevant decisions while adhering to company goals. Strategic plans create boundaries and predictability for the company.
So, why and when do you need to develop, or revisit, your strategic plan? And where do you start?
Why?
The business landscape is forever changing. Thriving businesses should be able to do what they do well AND be ready to pivot when internal or external forces drive them to do so. A company must be familiar with its foundation and baseline operations to address, conform to, and, when necessary, combat these forces. In day-to-day operation and in times of change, leadership is tasked with countless decisions, and leaders need guidance to stay on course. To create a strategic plan is to create a guidebook for next steps, Plan B (and C and D), and to serve as a gut check for whether the decisions you are making are within the confines of the company's mission, vision, and values. A strategic plan allows you to have direction, intention, and consistent operations rather than simply reacting to every market change.
Even if your business has been trucking along without a single hiccup in 50 years, there are plenty of obstacles (a pandemic, for example) that could be thrown your way and disrupt that flow you experienced for so long. Knowing your desired course and picture of success now will help you navigate any unexpected events in the future.
When and How?
There is no hard, fast rule for when to begin developing your strategic plan. The foundational work that launches the strategic planning process is critical in the early stages of the business, and when there has been a significant change in leadership or scope of business.
One of my favorite phrases is mise en place, often used to describe the way French chefs prepare the kitchen before cooking. I believe this concept can also be applied in business. Strategic planning serves as your mise en place. Set the stage, prepare the space, ensure that all tools necessary are readily accessible, and be confident that the prep work will lead to a more efficient and well-executed operation. Beginning the strategic planning process is like prepping your corporate kitchen so there is less confusion when the action starts.
Set the stage

Prepare the stage

Ensure tools are readily available

Have confidence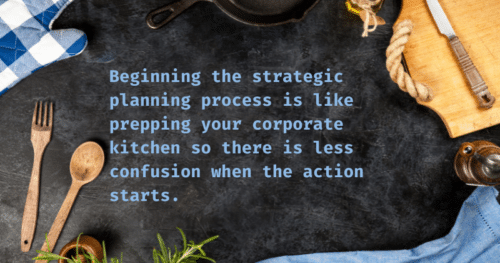 The first step of the strategic planning process is to establish an organizational foundation – the mission, vision, and values – and really let these elements drive the goals you set and the decisions you make in your company. If you haven't yet established your mission, vision, and values, now is the perfect time to do so.
Next, you'll take a hard look at the internal and external environments. An external assessment, which could include conducting a market analysis, competitive analysis, and gathering customer feedback, will help you better understand your market so that your business decisions are consistent with demand and competition.
Your internal organizational assessment helps determine whether the people and processes align with the principles you've set for your company. In addition to documenting the current organizational structure, technology, and processes, the internal assessment really zeros in on "right people, right seats." Talent acquisition and retention are some of the most critical topics in business right now. An organizational assessment is the first step toward having and keeping the best team by your side.
Building on the previous steps, you will develop strategic goals that adhere to the mission and core values, and help you achieve the vision. Of course, you would never stop short of setting a goal without coming up with a plan to get there. The final step of the strategic planning process includes defining your strategy and specific actions to reach your goals. Change is inevitable but giving yourself this framework and roadmap is how you stay on course through turbulence, stagnation, and business as usual.
Last, but not least, you will define the metrics to gauge your success along the way. Remember – your strategic plan is a living, breathing tool. You'll have frequent check-ins to determine where you stand and where you need to go next.
Where to Start
Fahrenheit Advisors has a wealth of experience in strategic planning. Everywhere – from non-profits and early childhood education, to start-ups and hospitality, to construction, distribution, and e-commerce – we have helped clients reign-in their organizational goals and forge a straight path forward. Our experts employ a proven six-step Strategic Planning process specifically tailored to meet the unique needs of your business. This is where the Flexibility in our core principles comes in.
We spend a lot of time up front understanding our clients, and our refined process provides structure and creates a predictable framework for leaders. With tools to assess your organization, relevant markets, and attainable short and long-term goals, we help you build your applicable, approachable, living, breathing strategic plan.
About the Author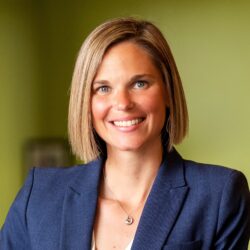 Megan Price provides a broad range of experience in strategy development, project management, organizational behavior, corporate culture, stakeholder relations, process integration, and change management. She encourages a collaborative process and tailors work to her individual client.