Road to Recovery: Finance & Accounting Pain Relief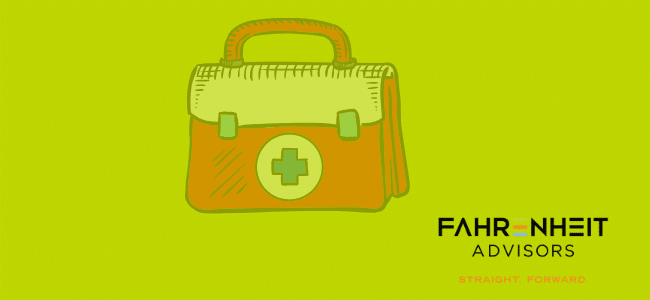 Over the last two months, Fahrenheit has shared the shock and awe, reset, and business pivot required by COVID-19 alongside over 100 current client engagements. Across our national client base, we have been blessed to work side-by-side with business owners and executive management to provide strategic advice and tactical support across our areas of expertise – business advisory and turnaround, finance and accounting, human capital, and talent acquisition. In this first in a series, we will review ways companies have received support and value from Fahrenheit through this crisis that others may not be thinking about. This article will focus on the finance and accounting function.
Key areas of support:
1) Consulting
Project assistance has been broad based and has included anything from strategic financial advisory services to business owners and CEO's, to the performance of specific tasks supplementing an organization's skillset and/or capacity to get a project completed. Sample projects have included:
Financial advisory and stakeholder communication
Financial and cash flow projections
Cash flow management
Assist in calculations and applications for governmental support programs (EIDL, PPP, Main Street Lending, etc.)
Assist in PPP loan forgiveness calculations
Analysis and negotiation support with lenders, landlords and vendors
Upgrade financial systems for remote working
Implementation of process improvements and workflow automation for remote working and more efficient operations
Review of internal controls due to changes in processes from remote working
Implementation of KPI's and dashboards to understand the business and provide decision making support
Distressed situation strategy
2) Interim
Many companies have delayed the hiring of finance and accounting staff and are turning to Fahrenheit to provide interim support to not only get the day-to-day accomplished, but to also provide interim leadership to assist the organization's strategy into the future. The roles have included strategic CFO, controller, bookkeeper, and FP&A roles. Engagements may last for a few weeks until the permanent resource can be hired or may be longer-term until there is better visibility into the economy and the new normal.
3) Fractional
Core to Fahrenheit's offerings for over 10 years, and with the largest staff of fractional CFO, controller and accounting resources in Central Virginia, companies are looking to Fahrenheit to provide fractional finance leadership and management as an alternative to full-time support. The fractional solution allows for flexibility and has become a standard solution for organizations that may not need or may not yet be able to afford a full-time solution. Fahrenheit offers resources on an "as needed" basis and leverages a team with the various levels and skill sets that an efficient and effective finance and accounting operation requires. Fahrenheit's solution ensures our clients get the right level and skillset for each task at hand and leveraged to the right level of involvement to meet a client's budget.
4) Talent acquisition
Organizations continue to replace key talent lost before and during the COVID-19 crisis. In addition, many organizations are using this opportunity to upgrade current staff. Many finance and accounting functions fell short meeting the challenges of the current crisis with a lack of ability to timely respond, inability to execute remotely, and/or provide management with financial insights, cash flow forecasts, and decision making information. We are working with organizations to quickly identify and fill exposed gaps with creative recruiting and interviewing processes and techniques.
Fahrenheit's seasoned professionals are here to bring solutions to your pain points, help you get stuff done in turbulent times, and guide you around the next corner to the straightest path forward. In addition, Fahrenheit is pleased to offer our complimentary INSIGHTS page packed with guidance from our leading experts on how to navigate these waters successfully.
We are here to help. Let us know if there is a particular area that Fahrenheit can help explore as we all get through this together.
About the Author
Keith Middleton is a co-managing partner and co-founder of The Fahrenheit Group and a seasoned corporate finance executive. Keith oversees the delivery of the firm's consulting and fractional financial management services, as well as its risk management and operations. Keith is the delivery lead for several clients where he leverages his expertise in people, processes, and systems. In addition to making a significant impact on our clients, Keith's proven expertise in organizational strategy and a newfound love of entrepreneurism has helped grow Fahrenheit to include Fahrenheit Finance, Fahrenheit Advisors, and Fahrenheit HR. He launched the firm in 2010 with partner, Rich Reinecke, where they both use their skills to bring new levels of business practices to local and national clients.