New Expertise Helps Fahrenheit Clients With Business Disruption Preparedness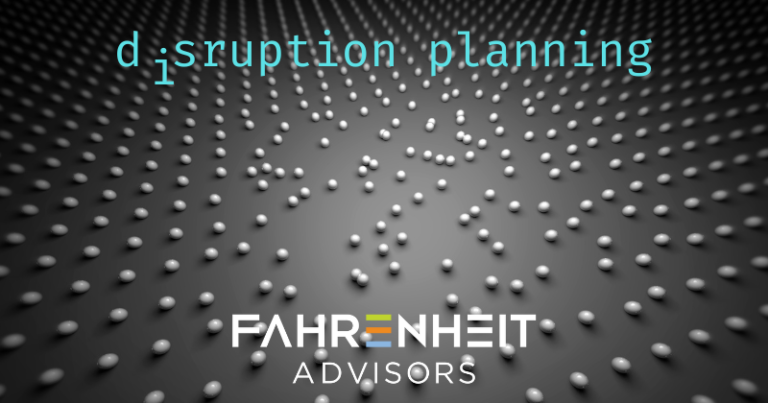 No business or industry is insulated from disruption caused by technology advancements, workforce transitions, talent shortages, and other fast-moving trends. With the right planning, however, business leaders can anticipate disruption, avoid surprises, and seize opportunities.
Fahrenheit recently welcomed Peter Grimm and Jennifer Buchwald to help clients capitalize on change with:
Sophisticated strategic planning anchored by comprehensive market and competitive intelligence
Strategic frameworks and foresight techniques drawn from the National Security Environment
Process improvements that increase efficiency and profit margins
As members of Fahrenheit's Business Advisory practice, Grimm and Buchwald enhance the firm's management consulting services for middle-market companies with strategy expertise, competitive insight, and market research. Their expertise helps clients maximize the value of data, improve strategic decision-making, and accelerate growth.
For example, A U.S. based agricultural manufacturer sought Grimm's expertise to help it expand internationally. He and his team provided:
A global analysis of the industry
A competitive assessment
An analysis of market share, strategy, strengths and weaknesses, threats and opportunities, geographic presence, product sets, differentiators, value propositions, and more
Sound strategic recommendations
The tailored analysis and advice allowed the client to make confident, strategic growth decisions detailed in this business disruption preparedness case study. 
"With automation and business intelligence technologies colliding with post-pandemic workforce trends and an uncertain economic outlook, businesses will increasingly look for outside expertise that can assess operations, develop strategy, and implement the solutions business growth calls for," Mark Vita, leader of Fahrenheit Advisors' Business Advisory practice, said. "Peter and Jennie, along with other recent strategic hires, put Fahrenheit's management consulting team in higher demand from middle-market companies seeking the straightest path forward."
If you prepare and plan for disruption, you can avoid surprises and capitalize on opportunities. Let's get started.