Fahrenheit Advisors Signs VCU Athletics & Mascot Sponsorship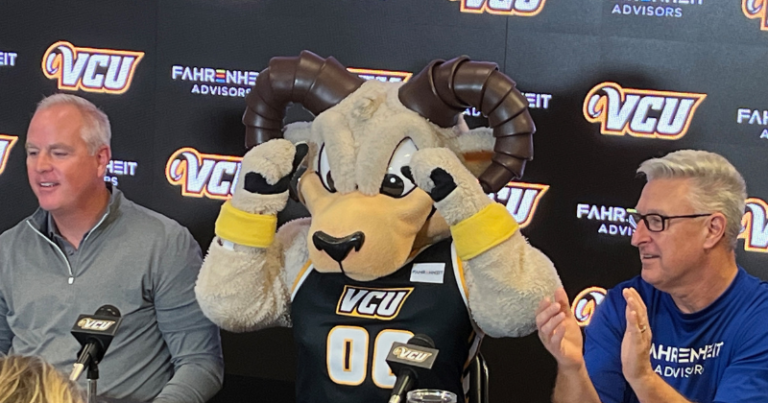 RICHMOND, VA – Under the terms of an innovative and first-in-the-nation sponsorship agreement with the Virginia Commonwealth University Athletics Department, Fahrenheit Advisors today announced that it has signed a two-year agreement to sponsor VCU Athletics and VCU's mascot, Rodney the Ram.
"When Fahrenheit contacted us about sponsoring VCU Athletics, we created a unique opportunity to highlight the confidence the firm delivers to its clients," Kevin Dwan, senior associate athletic director for external relations for VCU Athletics, said. "Rodney the Ram lives to rally teams to overcome obstacles and win, a purpose that aligns perfectly with Fahrenheit's strategic advisory work."
Fahrenheit has created a ceremonial role for Rodney to symbolically bring his courtside energy and enthusiasm to Fahrenheit Advisors as Director of Confidence. Rodney's undeniable will to win and Fahrenheit's advisory expertise will give clients unbridled confidence to overcome pressing business challenges, make better decisions, and take their businesses to the next level.
"Rodney knows how to fire up a team, and those confidence-generating skills are as applicable in a business as they are on the field," Keith Middleton, co-founder and co-managing partner for Fahrenheit Advisors, said. "We're excited to have Rodney bring his talents to an arena where confidence leads to wins, and wins drive business growth, create jobs, and generate incredible opportunities to give back to our community."
Richmond-based Fahrenheit Advisors is a business advisory firm that helps organizations overcome challenges to growth. The firm's more than 140 employees and consultants address operational issues for clients nationwide across core business functions, including finance and accounting, human resources, sales, recruitment, processes and systems, strategy, and more.
"Mascots bring pride and joy to college sports fans nationwide and are key marketing components of their programs," Rich Reinecke, co-founder and managing partner at Fahrenheit Advisors, said. "A hat tip to the VCU athletics team for creating a unique sponsorship opportunity that underscores the confidence we bring to clients while supporting VCU players, coaches, staff, and the unseen students who bring Rodney to life."
Fahrenheit's sponsorship of the VCU mascot program through VCU athletics makes Rodney's "signing" possible. Fans will see Fahrenheit Advisors more visibly at athletic events, in communications, and on Rodney's jersey. The sponsorship also includes opportunities to support the students that make the mascot program possible.
Learn more about the partnership between Fahrenheit Advisors and VCU Athletics here: fahrenheitadvisors.com/vcu.
ABOUT FAHRENHEIT ADVISORS
Founded in 2010, Fahrenheit Advisors offers middle-market, Fortune 1000, non-profit, and governmental organizations a solutions-driven approach to consulting. The firm's business advisory, finance & accounting, human capital, sales advisory, and executive search capabilities help leaders find the straightest path forward. With more than 140 employees and consultants, Fahrenheit's seasoned team of experts fills gaps, solves problems, and delivers long-term, strategic solutions that fuel growth and increase value. More at FahrenheitAdvisors.com/vcu.
Contacts:
Fahrenheit Advisors – Tiffany McCarthy, (804) 307-3039, tmccarthy@fahrenheitadvisors.com
VCU Sports Properties – Robby Robinson, (804) 539-9711, rrobinson@vcusportsproperties.com