Fahrenheit's Keith Middleton joins March of Dimes to Honor Perdue's Tradition of giving
PRESS RELEASE:
MARCH OF DIMES HONORS PERDUE ASSOCIATES FOR DECADES OF SUPPORT AND LEADERSHIP IN VIRGINIA
Date:       November 12, 2014
Contact: Susan Smith, Div. Executive Director, 757-383-8817 or swsmith@marchofdimes.com, Bill See, Communications Manager – Perdue, 410-341-2412 or Bill.See@perdue.com
ACCOMAC, VA. (Wednesday, Nov. 12, 2014) — For 36 years, associates at Perdue Farms' operation in Accomac, Va., and their families have gathered on an early Sunday morning in May to walk. The walk is not for their health, but for the good health of all babies.
Virginia's longest serving March of Dimes partner, Perdue has been the number one fund-raising team in the state eight of the past 10 years. In 2014, Perdue was again the leading fund-raising team for Virginia's annual March for Babies with contributions approaching $35,000.
On Wednesday, the Virginia Chapter of the March of Dimes paid tribute to the Perdue team for almost four decades of support and nearly $800,000 in associate fund-raising during a ceremony at the Perdue facility in Accomac.
"We are honored to salute and thank Perdue for generous and often record-breaking years of contributions," said Keith Middleton, former Perdue employee and March of Dimes Virginia Chapter board chair. "The March of Dimes was founded by community members who supported a cause that worked to improve the health of our nation. Perdue continues a March of Dimes 76-year tradition of giving to make life better for others."
In the late 1970s, Perdue management encouraged associates to get involved in the community. Jim Dennis, former Accomac complex manager, thought March of Dimes would be a good fit for families and the Eastern Shore. He enlisted Rufus Beach, a Perdue business leader, to make it happen.
Fundraising cook-outs and ballgames, which raised a few hundred dollars in the early years, grew into year-round payroll deduction campaigns, which today, raise thousands of dollars for March of Dimes.
"Perdue associates are generous, caring people who give from the heart," said Beach. "When it comes to helping others, Perdue associates do not hesitate, especially when it is about babies."
Almost four decades later, Beach continues to chair the Perdue March of Dimes committee and the Eastern Shore Walk. For his service and dedication, Beach was named an honorary Greater Hampton Roads March of Dimes board member in 2013.
Beach and March of Dimes staffer Susan Turner of Parksley now work with the Eastern Shore Committee composed of Perdue associates Veronica Poulson, Jeff Locklear, Saadia Davis and other community members. Every March, the campaign kicks-off with a Perdue-sponsored dinner for guests representing school, church, civic, business and family teams.
The Eastern Shore Walk, which was first held at Chincoteague Island, is now held at the Onancock Learning Center in May. On Walk Day, Perdue associates join about 150 other community members in an awareness walk followed by a picnic to celebrate another successful campaign season.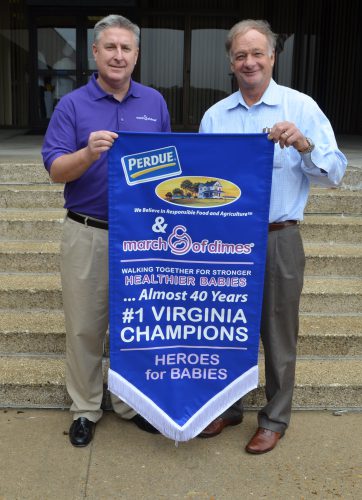 ---
About The March of Dimes
March of Dimes funds research, education, community programs and advocacy for the prevention of birth defects, premature birth and infant mortality. Autism, learning disabilities, diabetes, sickle cell anemia, Alzheimer's Disease and more than 100 other health concern also fall under the March of Dimes research umbrella. To learn more, visit www.marchofdimes.org/virginia/
About Perdue Farms
Perdue Farms is dedicated to enhancing the quality of life for everyone we touch through innovative food and agricultural products. Since our beginning on Arthur Perdue's farm in 1920, to our expansion into agribusiness and the introduction of the PERDUE® brand of chicken and turkey under Frank Perdue, and continuing with our third generation of leadership with Chairman Jim Perdue, we've remained family owned and family operated. We are the parent company of Perdue Foods and Perdue AgriBusiness. Through our PERDUE®, HARVESTLAND® , COLEMAN NATURAL® and COLEMAN ORGANIC® food brands; agricultural products and services; and stewardship and corporate responsibility programs, we are working to become the most-trusted name in food and agricultural products. To learn more, visit www.perduefarms.com.