Fahrenheit Group merges with HR business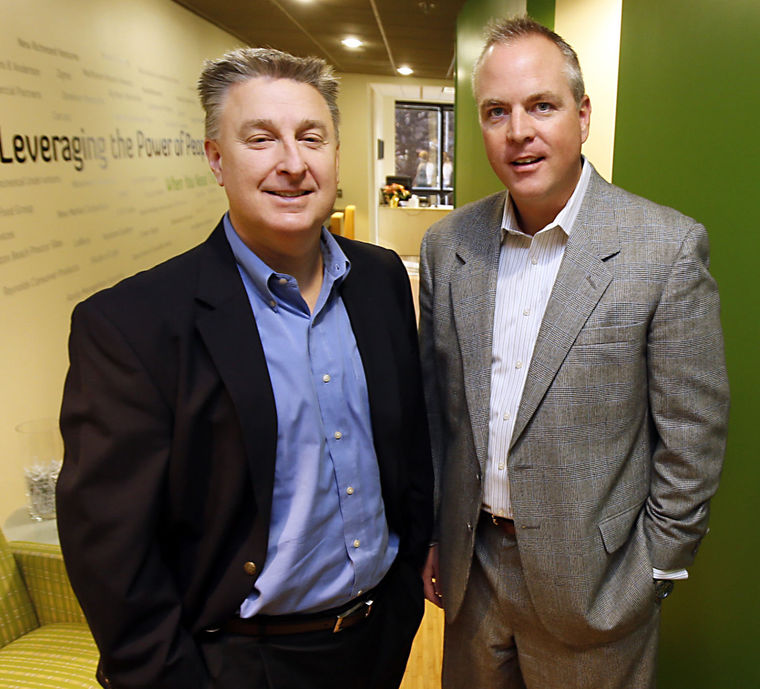 Fahrenheit Group merges with HR business
BY JACOB GEIGER Richmond Times-Dispatch | Posted: Thursday, September 11, 2014 10:30 pm
Fahrenheit Group merges with HR business
Keith Middleton (left) and Rich Reinecke founded Fahrenheit in January 2010. After merging with Axeo, the company employs 35 people locally.
The Fahrenheit Group, a local finance, business advice and human resources company, is merging with Axeo, a human resources business based in Northern Virginia.
Henrico County-based Fahrenheit was founded in January 2010 as Fahrenheit Finance by Keith Middleton and Rich Reinecke. The company originally provided accounting, bookkeeping and chief financial officer services to growing businesses.
Middleton said he and Reinecke wanted to expand Fahrenheit's human resources practices, while Axeo founder Tom Wimer was looking to expand his company into the Richmond market.
The combined company will be called The Fahrenheit Group.
Fahrenheit rebranded this spring to reflect its expanded product offerings and now works with clients in three areas: accounting and finance, business advisory services and human resources.
Many of the company's finance and business advisory clients also need assistance with human resource services, since Fahrenheit largely works with fast-growing companies that don't have extensive accounting and HR operations in house.
"This morning, for example, one of our HR consultants was asking the finance and business advisory groups about the best way to structure a stock incentive plan," Reinecke said.
The advisory services division was started about a year ago, and the human resources services began earlier this year.
The Fahrenheit founders — who were introduced to each other in 2009 by local angel investor Karen Booth Adams — met Axeo's Wimer through similar circumstances. Nancy Eberhardt, a local consultant and business coach who knows all three, suggested the trio have a meeting to discuss ways to work together.
"We had a call, and it went so well I came to Richmond the next day for a meeting," Wimer said. "I immediately thought that these were the people I'm looking for."
Wimer, managing partner of Axeo, will lead the combined companies' FahrenheitHR practice. Axeo's offices in Reston and Phoenix will remain open, and Fahrenheit will launch its fractional finance and business advisory practices in those markets. The combined company has about 50 employees, including 35 in the Richmond area.
Wimer was previously CEO of KnowledgeBank Inc., a human resources management consulting firm he founded in 2002 and sold in 2011.
Fractional finance companies send their employees to work at small or midsize businesses on a partial basis, anywhere from a day or two a month to five days a week. Those employees provide basic bookkeeping services and financial reporting services to high-level financial planning assistance and restructuring.
The fractional human resources business operates on a similar model. Middleton said Fahrenheit's HR staff assists businesses with organizational development, staff training, compensation structures and human resources compliance.
Fahrenheit works with clients ranging from startups to members of the Fortune 500. But Middleton said the biggest focus is on middle-market companies, which he described as any with revenues of less than $500 million a year.
"The big focus, whatever the size, is growth-oriented companies," he said.