Fahrenheit Expands to the Carolinas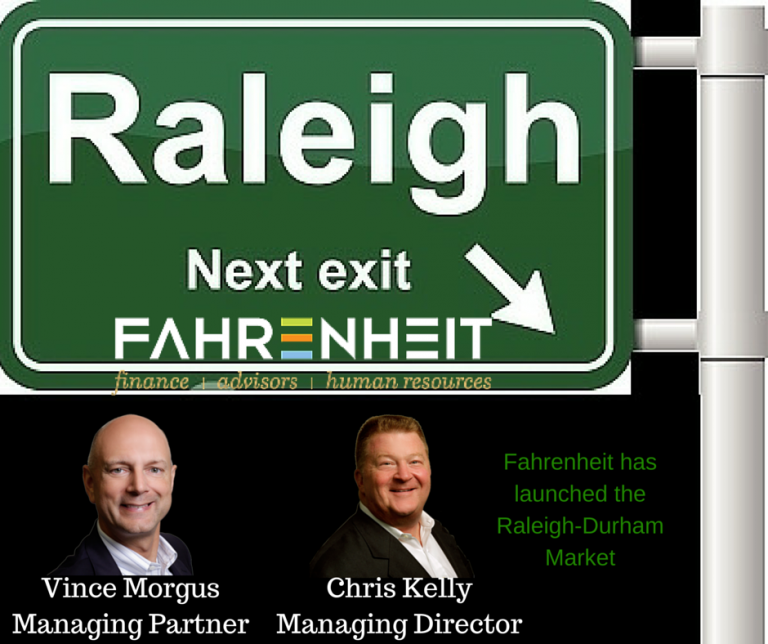 Michael Schwartz October 14, 2015 ow.ly/TnQQi 
In a hunt for new business, a West End firm is setting up shop in a busy metro market of North Carolina.
The Fahrenheit Group, which through various arms offers finance, accounting, human resource and other advisory services to businesses, last month launched operations in the Research Triangle area of the Raleigh-Durham market.
The company has hired Vince Morgus to manage its Carolina operations. Morgus is a veteran of the business scene in that market, with experience in the software and pharmaceutical industries.
Fahrenheit co-founder Keith Middleton said the company began looking for potential expansion in the Research Triangle area last summer because of its similarities to Richmond.
"It looks a lot like Richmond – a little bigger," he said. "The size and types of companies there fit our business model for serving the early-stage and middle-market high-growth companies."
Morgus said the market has plenty of attractive clients to go after at both ends of the size spectrum – large, publicly traded companies and smaller upstarts that may need Fahrenheit's help as they grow.
Its services include providing part time or so-called fractional CFO and human resource services, as well as various accounting and advisory services.
As it gets up and running in North Carolina, Fahrenheit will use Morgus' experience in helping companies with capital raises and debt offerings to get its advisory services on people's radar, Middleton said.
"He's well-known and well-networked," Middleton said of Morgus. "We're going to lead with Vince with the advisory services and over time bring in the complimentary services."
Morgus has two other employees on board with him in Carolina and the company will look to add about a dozen more over the next 12 to 18 months. Fahrenheit now has more than 50 total employees.
Middleton said Fahrenheit is also in negotiations on securing office space in the Triangle.
Its Carolina office adds to Fahrenheit's West End headquarters at 1700 Bayberry Court and outposts in Northern Virginia and Phoenix, which the company took on through an acquisition by its Fahrenheit HR practice last summer.
Further expansion is in the cards for Fahrenheit, but Middleton said the company will use this latest move as a testing ground.
"We want to make sure we go into the Raleigh market the right way and that we can prove the model," he said.
The biggest challenge in expanding into a new market, Middleton said, is "trying to convince the market that we are different than some of the firms that provide similar services."
---
Michael Schwartz is the BizSense editor and covers banking, law and small businesses.  Michael@richmondbizsense.com.