Fahrenheit Capital Partners Advises on Sale of Tribble Electric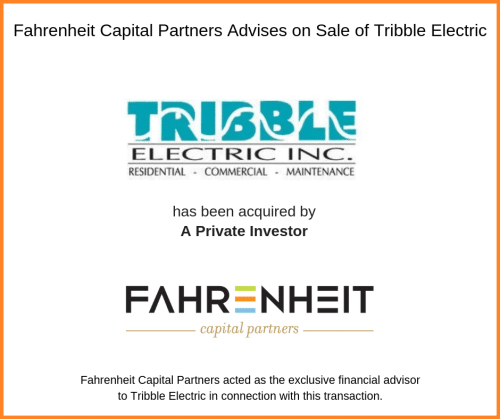 On July 31, 2018, Steve Tribble completed the sale of Tribble Electric to a private investor. Terms of the transaction were not disclosed.
Jonathan Brabrand, Managing Director at Fahrenheit Capital Partners, represented Tribble Electric in the sale.
Steve Tribble founded Tribble Electric in 1983 and as CEO led the company to become a premier full-service electrical contractor in the Richmond area. Operating from its headquarters on Richmond's Northside, the company provides a full complement of commercial, multi-family, maintenance, low voltage, and residential services to a range of customers located throughout Central Virginia.
"We are convinced the transition would not have been as successful had it not been for their [Fahrenheit] dedication, persistent negotiating abilities, and most importantly, their compassion."
"This transaction represents a very important milestone in Tribble Electric's history," Jonathan noted. "With this ownership transition, the Tribble family has secured the legacy of their company and has ensured that it will continue its history of success in perpetuity." He added that it will remain business as usual at Tribble Electric going forward, as all employees (including Steve and wife Dody Tribble) will remain with the company and the new owner is committed to supporting Tribble Electric's continued growth and expansion.
Steve and Dody were very pleased with the M&A transaction process and its outcome. "Jonathan Brabrand and the Fahrenheit team worked diligently from the initial evaluation to the completed acquisition of our company," Steve said. "We are convinced the transition would not have been as successful had it not been for their dedication, persistent negotiating abilities, and most importantly, their compassion."
About Fahrenheit Capital Partners
Fahrenheit Capital Partners provides exceptional M&A advisory services to lower middle market clients located throughout the U.S. We have a particular focus on advising family and closely held businesses, offering clear guidance at every stage of the process to ensure the best possible outcome for what is usually the culminating financial event in the life of a business owner and their family. Our services include Sell-Side M&A Preparation & Advisory, Capital Raising, Buy-Side M&A Advisory, and Post-Closing Settlement & Transition.
Jonathan is passionate about helping businesses prosper and maximize value to their employees, customers, communities, and owners. Instilled with a spirit of entrepreneurism from a young age, Jonathan draws on his experience as a business owner, trusted strategic advisor, and investment banker to identify and overcome the challenges clients face. Jonathan's humility and easy-going personality belie the razor-sharp business instincts he honed over two decades of structuring and negotiating dozens of M&A transactions ranging from $10-300 million in value.
For more information, contact Managing Director Jonathan Brabrand at d: 804-823-3916 c: 804-334-3698 or jbrabrand@fahrenheitadvisors.com or visit About Fahrenheit Capital Partners
---
The above testimonial may not be representative of the experience of other clients and should not be construed as a guarantee of future performance or success.
This press release is for informational purposes only and does not constitute an offer, invitation or recommendation to buy, sell, subscribe for, or issue any securities. While the information provided herein is believed to be accurate and reliable, Fahrenheit Capital Partners and BA Securities, LLC make no representations or warranties, expressed or implied, as to the accuracy or completeness of such information. All information contained herein is preliminary, limited and subject to completion, correction or amendment. It should not be construed as investment, legal, or tax advice and may not be reproduced or distributed to any person.  Securities and investment banking services are offered through BA Securities, LLC Member FINRA, SIPC. The Principal of Fahrenheit Capital Partners is a registered representative of BA Securities, LLC. Fahrenheit Capital Partners and BA Securities, LLC are separate and unaffiliated entities.