Top HR Posts of 2020: Returning to the Workplace Advice for Employers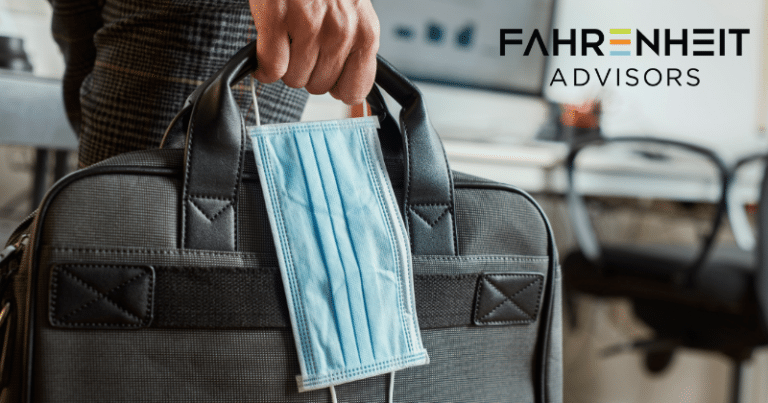 As employees begin to return to the office on the road to recovery in these challenging COVID times, we wanted to reshare a few of our top-performing and relevant articles of 2020 that we feel will be helpful to employers and employees. These three articles, written by Nathan Duet, HR expert and Fahrenheit Managing Director, were shared within the Insights area of our website as companies were pivoting in response to minute-by-minute updates from the medical community, government and media.  We were glad to know so many found his articles to be helpful during this unprecedented time in our lives and in business. Nathan has prepared a few updates to the initial articles that you need to know to safely welcome your valuable employees back to the office. Still relevant to our workplace today as it was when we were receiving alarming case numbers and shutting down businesses and travel to keep customers and employees safe- these insights will help you transition as together we get back to the workplace. 
#1) FACT SHEET- THE FAMILY FIRST CORONAVIRUS RESPONSE ACT
The specific design and eligibility requirements of the FFCRA have not changed at all since the law was passed. Since the FFCRA is scheduled to remain in effect until at least the end of 2020 (this may be extended depending on how the country recovers) the information contained in this article remains relevant since it was published in March. If you missed it, CHECK IT OUT HERE.
#2) MANAGING THE WORKPLACE IN THE AGE OF COVID-19
Since this post in March, the Department of Labor has clarified its position that employers have a responsibility to remove employees who have tested positive, have been exposed to others who have tested positive, or are exhibiting the recognized symptoms of COVID-19. In addition, the new Workplace Rules released in Virginia makes failure to remove employees a finable offense. In short, there is much more emphasis to isolate individual employees who may have been exposed to or have the virus.
There has been added emphasis placed on the employer's responsibility to implement contact tracing within their workplaces. Accordingly, it becomes more important that employers plan carefully as to how they plan to develop a method for tracking the movements of employees who have been exposed to COVID-19 and how they will notify employees within their workplaces that they may have been exposed.
It is becoming increasingly clear that there have been changes to the workplace that are likely to have a long-term or permanent impact on how work is performed. Rushing back to what was before the pandemic may not be a winning strategy at this point. Instead, employers should be focused on making the most of their current circumstances, including how virtual work is impacting productivity and whether remote work is having an adverse impact on the culture and work experience of the company.
Don't miss the complete article full of great guidance- READ MORE HERE.
#3) 13 QUESTIONS FOR TODAY'S COVID-19 ENVIRONMENT
The COVID-19 environment is continually changing as is the guidance to adapt in the workplace. Note these important updates since this article was published in July 2020.
The resistance of individual employees to return to the workplace because of personal health concerns has become a greater concern. I have heard much more about employers' being asked to make individual accommodations for employers who simply fear returning to the workplace – regardless of the safety and sanitation measures that have been implemented by the employer.
The safety and sanitation measures that employers must take to ensure that they are providing a safe workplace have become more defined than in the early stages of the pandemic. In fact, in states such as Virginia, there have been "rules" published that explicitly state what measures must be taken by employers. These "rules" may not have the effect of a law, but there are monetary penalties associated with non-compliance.
With respect to the guidance under the Pandemic Unemployment Assistance Program: Initially when this article was published in July, 2020, the federal government's contribution of $600 per week was clarified for partial benefit recipients. The guidance indicated that if a PT employee qualifies for a partial UI benefit of as little as $1, they would be eligible for the added $600 payment. Now, the $600 per week federal supplement to weekly Unemployment Insurance (UI) has expired and been replaced with a lower rate. The voluntary $300 per week supplement, which requires states to contribute to the supplement, has not been implemented equally across the country.
Don't miss the COMPLETE ARTICLE HERE.
We often meet with companies strained because they don't have an HR expert on their team who can stay current with so many changes and implement safety measures for their employees. Whether you want to ensure you are in compliance with state guidelines or want to make sure your employees are engaged as they return to the office, we can help on a short term or fractional basis. Reach out to Nathan Duet or contact us at Experts@FahrenheitAdvisors.com to ensure the safe return of your employees to the office.
ABout the author
Nathan Duet brings expertise in building sustainable human resources functions within rapidly growing organizations and making strategic adjustments to policies and practices to accommodate an organization's strategy and development. With nearly 40 years of experience, Nathan collaborates with clients to build a balanced approach to human resources management that facilitates the growth of team members while achieving, and exceeding, organizational objectives. He is skilled in all areas of human resources management including employee relations, compensation, benefits, communications, performance management, and compliance with state and federal labor laws.