CASE STUDY: Fixes to HR Management Function Restore Growth & Employee Confidence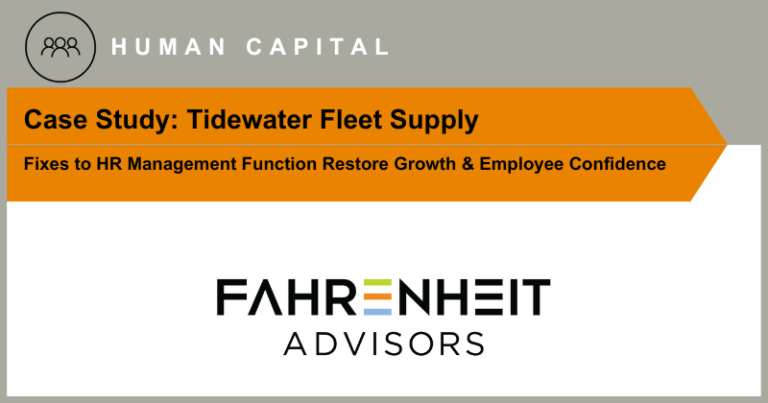 Fahrenheit Advisors' complete overhaul of Tidewater Fleet Supply's HR management functions resolved critical issues and put the firm's growth plans back on track.
THE SITUATION
Tidewater Fleet Supply (TFS), a regional supplier of heavy truck and equipment parts, trusted an outside company to handle its HR and payroll functions. Unfortunately, that company wasn't qualified and incorrectly set up benefits, payroll, and other processes. Problems began immediately, were not addressed by the outsourced company, and mounted over time. Inaccuracies broke down employee trust, pushed the firm out of compliance, and hindered leadership's business expansion plans. TFS called Fahrenheit Advisors to replace the outsourced HR operation and reverse the situation.
OUR APPROACH
Fahrenheit deployed two full-time and two part-time consultants to TFS. The Fahrenheit experts, led by senior consultant Ellie St. John, had decades of operations, benefits, payroll, and process experience. They assessed the situation, prioritized responsibilities, and collaborated with leadership to fix the problems. First, the team untangled payroll processing and soon ran payrolls without incident. It then cleared a backlog of inaccuracies, such as state tax filings and benefit deductions. Configured correctly, the HRIS introduced sustainable processes that ensured a compliant HR function.
THE RESULTS
Fahrenheit put Tidewater's HR operations in order, improving employee morale and freeing leadership to focus on growth with:
Payroll that runs correctly, without issue, every two weeks
Accurate and transparent benefit deductions
A solid HR operations structure with scalable and repeatable processes
Timely employee communications
A properly integrated and operating HRIS
A new in-house HR generalist whom Fahrenheit onboarded to transition day-to-day HR operations
"Fahrenheit Advisors stepped in and provided immediate triage for HR, benefits services, and payroll processing. Their level of experience and professionalism quickly earned our employees' trust. Before long, our company was back on track and self-sustainable in these areas."
— Dale Herold, CEO, Tidewater Fleet Supply
Engage Fahrenheit's HUMAN CAPITAL experts