The Fahrenheit Mid-Atlantic Total Compensation Survey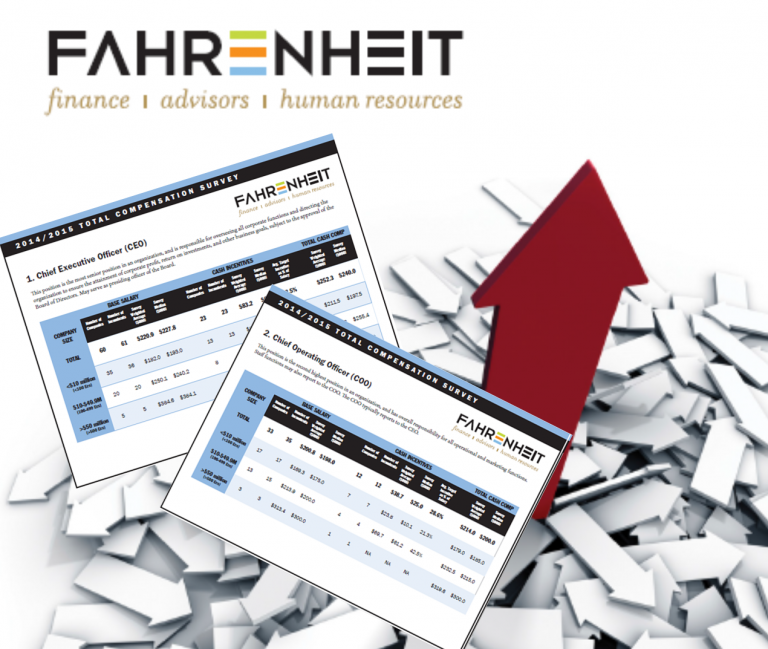 THE FAHRENHEIT GROUP LAUNCHES DATA COLLECTION FOR 2015 – 2016 COMPENSATION SURVEY OF SMALL AND MIDDLE MARKET MID-ATLANTIC COMPANIES
Richmond, VA – October 6, 2015 – The Fahrenheit Group is conducting the Mid-Atlantic Total Compensation Survey for Small and Middle Market Companies. Now in its 25th year, the survey provides the most comprehensive information regarding competitive market-based salary and incentive data, salary adjustments, cash and equity incentive plans for executives and technical professionals, and trends in human resource practices and employee benefit plans.
Small and middle market firms are invited to participate by completing the survey questionnaire no later than October 23, 2015. Participate now by accessing the survey here.
Participating companies receive a free copy of the summary results in November. Non-participants may purchase the results for $400.
The survey is dedicated to serving the needs of small-to-medium size companies throughout the Mid-Atlantic region, and with a history of serving technology companies; the scope will now be broader across all industry segments. The survey provides competitive salary and incentive bonus rates for 50 benchmark jobs, ranging from the Chief Executive Officer to Project Manager, Programmer Analyst, Financial Analyst, Network Engineer, Staff Accountant, Recruiter and Technical Support Specialist
"With Fahrenheit's sphere of clients and contacts, we look forward to including a broad spectrum of industries and seeing a substantial increase in the number of participating companies this year. This survey is unique in that it is the only one of its kind with the essential compensation, benefits and HR practices information from small-to-medium size companies," said Steve Rosenthal, Director of Compensation Practice for FahrenheitHR. "Early indicators show more companies plan on slightly increasing their salary budgets for the upcoming year, although they are expected to remain at relatively lower levels than in the previous decade. The challenge to recruit and retain talent in this environment remains high."
For the 2015 – 2016 survey, the summary report provides salary and incentive data for 50 benchmark jobs. In addition the report provides salary adjustment, annual and equity incentive plan, human resource management practices, and employee benefit plan prevalence data. The foreword to the summary report will be written by a notable Mid-Atlantic entrepreneur in the final survey report.
Questions concerning the survey should be directed to totalcomp@fahrenheitadvisors.com or (703) 673-9431.
---
About The Fahrenheit Group
The Fahrenheit Group is a full-service advisory firm that helps growth-oriented organizations overcome their most challenging hurdles to success. Our team is comprised of senior business leaders and consultants with real-world experience in three practice areas – Accounting and Finance, Business Advisory and Human Resources. We leverage the extensive knowledge of our team to understand clients' true needs and implement practical solutions. Fahrenheit's clients range from non-profits to early-stage to middle market and Fortune 500 companies.
Founded in 2010 in Richmond, The Fahrenheit Group has been selected as one of Virginia Business's Best Place to Work in 2014 and 2015 and has offices in Reston, Richmond, Raleigh-Durham and Phoenix.
Steve Rosenthal – Director, Compensation Practice
Steve is a compensation and benefits executive with over 30 years of corporate and entrepreneurial human resources experience and possesses a unique combination of both strategic and tactical experience focusing on the design and implementation of state-of-the-art compensation programs. e-mail: srosenthal@fahrenheitadvisors.com
---