Rethinking Talent Acquisition Strategies for Pain Relief on the Road to Recovery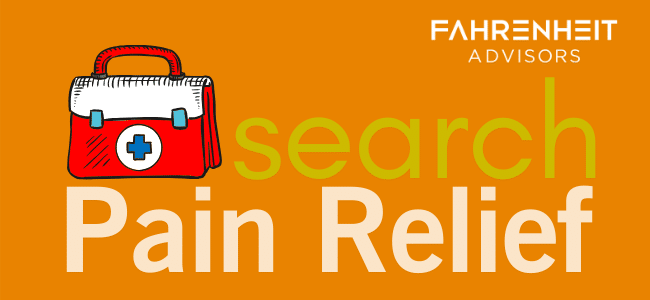 Every organization has had to rethink strategies in 2020, particularly people strategies. Unique challenges presented by COVID-19 force organizations of all sizes to consider effective recruiting processes after evaluating the talent needs of the business in an ever-changing environment.
In the past three months, we have advised organizations across a broad range of industries and sizes which has afforded our firm an opportunity to see a spectrum of pandemic experiences. Some organizations are seeing a positive impact and able to take advantage of a market opportunity related to COVID-19. Most have faced the realities of a downturn in business, furloughs, layoffs and the need to make rapid fire decisions in record time. This is absolutely the case when considering filling openings or recruiting for new talent.
What our team has experienced in professional and executive recruiting during this crisis:
1) Great Talent is Still Hard to Find
The talent market has been very tight and in fact in 2019 we were all experiencing a 50-year low in unemployment. In April 2020, unemployment climbed from 3.6% to 14.7%. A shocking spike but potentially with a silver lining that most were listed as temporarily unemployed and would return to work. The expectation was that the May unemployment numbers would be even higher. However, they dropped. Our team has not seen any dramatic uptick in professional resumes, and this does not feel like the recessionary recruiting environment of 2008-2009.
2) Hiring the Best People Remains at the Top of the List
Finding and hiring great talent has been at the top of the list as an organization's leaders greatest concerns. Most companies are not good at it and spending more money has not solved their issues. This problem has been further exacerbated during the chaotic time of COVID-19. The search process needs to be well defined and a magnetic tool to attract great talent. We have helped organizations redefine their approach to talent acquisition and find a way to attract, evaluate and hire the best talent. All at a time when most thought there was no way forward.
3) If You Are Not Focused And Don't Have a Well-defined Process, You Won't Win
Uncertainty can cause people to question the little things. It is our job to help answer questions people haven't even thought to ask yet. The market for the best talent is still tight and you have to plan that way. If you do not focus on your employer brand and actively consider how to make your candidate experience great, you run the risk of losing the opportunity to even consider adding them to your team.
If your organization is contemplating how to best proceed with a talent acquisition strategy for the remainder of 2020, we would be happy to help you think through it. We can share what other successful organizations are doing to navigate the incredibly important task of attracting and hiring great talent. Hundreds of companies rely on us to help them move forward, and we can help you too. Reach out to us as experts@fahrenheitadvisors.com for more details.
About the Author
Rich Reinecke is co-managing partner and co-founder of Fahrenheit Advisors. A recruiting industry veteran with a unique blend of large corporate experience and a dynamic entrepreneurial spirit, Rich plays a key role in developing Fahrenheit's culture and brand. He also leads key community and client development efforts, the firm's internal talent acquisition efforts, and the firm's executive search practice. With more than 20 years of recruiting industry and entrepreneurial experience, Rich's expertise gives Fahrenheit the ability to leverage relationships to help our team and our clients accomplish their goals.