Road to Recovery: Human Capital Pain Relief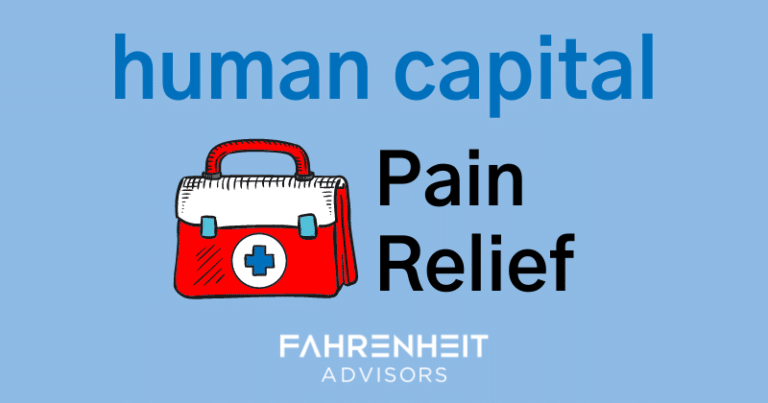 This current COVID-19 environment has created many opportunities for organizations to find different ways of growing through new thinking and activities, sometimes on a daily basis. When it comes to your most precious asset; your people, the multitude of decisions can sometimes feel overwhelming. Our team is available to partner with your Human Resource department. If you are a company that does not have a formal HR department, we can fulfill that important role for you.
In this article in a series entitled "Pain Relief", we are sharing some of the practical ways that members of our human capital consultants are partnering with clients during this crisis. If you are interested in some additional support for your organization, reach out to us at experts@fahrenheitadvisors.com.
Here are three key areas where you may need support:
1) Consulting support
With our customized approach to a client's specific needs, we work with you to develop the most effective support package for you. Some of the current needs may be:
Return to the office and continued risk assessment
Policies and procedures updates related to our current environment
Work from home and in-office planning
Furlough and layoff guidance
Job description updates
Employee policy evaluations
2) Fractional/Interim support
HR department staff have been overwhelmed by all of the changes that have needed to be made during the past few months. Many times, simply having another HR expert to share the workload and collaborate on important components of the management of people is invaluable. Additionally, we have a team of individuals at the ready to jump in and take on an interim role within your company.
3) Leadership Coaching support
Being a good manager and leader is most important during challenging times. Our clients appreciate the support provided by our coaches as they develop, communicate, and roll out big decisions that affect the company and its people. Positioning your managers and leaders to thrive, not just survive is the cornerstone of great leadership and success.
If your organization is discussing how to best proceed for the remainder of 2020, we are happy to collaborate with you. Sharing what other successful organizations are doing to navigate the incredibly important task of managing your talent with success may be helpful. Reach out to us at experts@fahrenheitadvisors.com for more details.
About the Author
Rachel Lutowsky helps develop Fahrenheit's business by building and maintaining strong relationships with corporate level executives and referral sources and providing clients with customized strategies for solving their challenges and growing their business. As Fahrenheit West's managing director, she also leads and manages the office's consultants and operations. She is a member of Fahrenheit's Leadership Team.