COVID-19 Chaos: Managing Human Capital with Fractional HR Expertise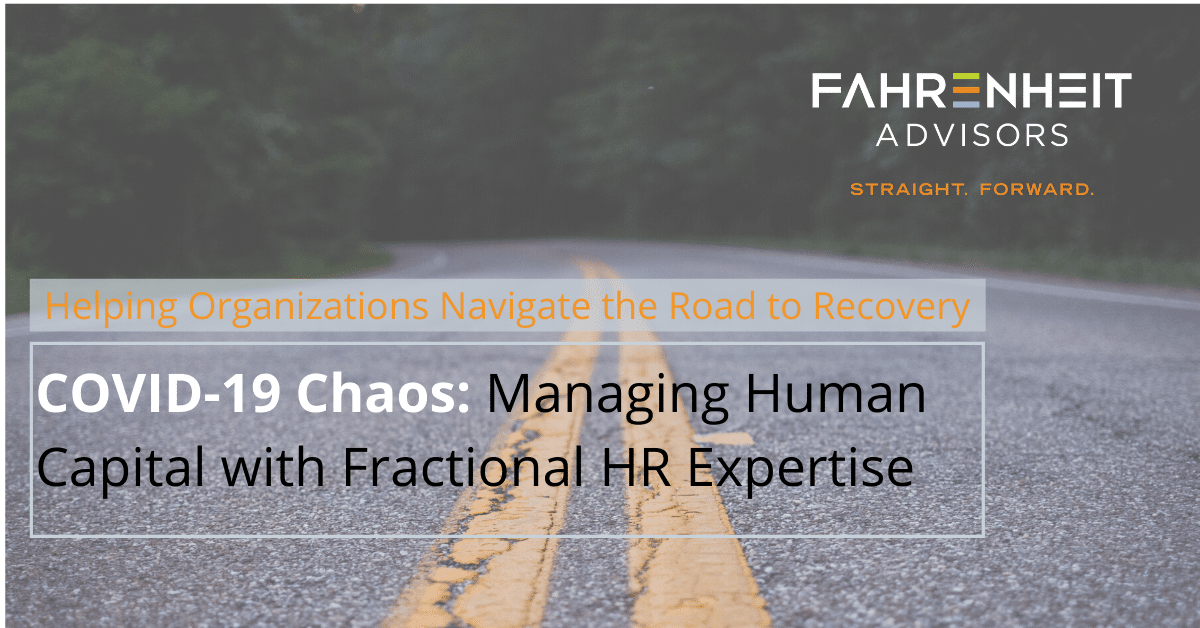 Businesses across the country are faced with moment to moment decisions around keeping their business moving forward, seeking financial support through government programs, managing communications to their organizations, and navigating new regulations that will impact their employees. For many organizations, these monumental tasks are being done by a dedicated team, but one that is overwhelmed by the technical challenges this crisis presents. And, often that dedicated employee is one that has no formal training in the area they are asked to now become an expert.
When it comes to managing your greatest asset, your people, do you:
Have an HR manager that is suddenly overwhelmed with understanding and preparing for how to handle emergency medical leave, communicate with employees, and ultimately work to support and protect your company?
Or, has the task of implementing HR changes and managing HR functions been passed to another operations person who is also attempting to perform on his or her own focus area?
If you find yourself in either of these situations, perhaps engaging Fractional Human Resource support is a critical decision for your business as you navigate this crisis.
What is a Fractional HR Expertise?
Fractional support allows an organization to engage a technical expert on a Fractional (less than full-time) basis. From leading HR strategy to executing day to day tactical HR support, our experts generally perform the same kind of work as a full-time employee (FTE), just on an abbreviated schedule. For example, one of our clients with 25 employee's engages our fractional human resource expert to support their HR needs, for about 15 hours per week.
What are the benefits of using a fractional HR professional during this turbulent time?
Strategic guidance and leadership support to implementing new regulations and keeping the HR function running smoothly. With the importance of moving from understanding to implementation of the FFCRA and tracking information and updates released from the Department of Labor, it takes time and effort to determine how your company should administer and implement the aspects of the act that applies to Emergency Paid Sick Leave (EPSL) and the expanded Family and Medical Leave Act (FMLA). Engaging a fractional HR professional can provide the strategic guidance or lend additional support for your current HR team.
Let Your Finance Person Focus on Finance. If you have an employee managing HR part-time, but their regular full-time job is to support or manage other aspects of the company, brining on support can alleviate their divided focus and get him or her back to the important factors of their "real" job. For example, in a lot of organizations, HR roles sometimes report to the senior finance person in the company.
Smoother transitions. With the daily change in the landscape of our economy, your business will undoubtedly be creating strategies and goals for how to maintain, sustain, re-build, and then thrive again after we have moved through this unprecedented and turbulent time. Having the right Fractional HR expertise will support your organizations goals to further your success, now and in the future.
About the Author
Rachel Lutowsky helps develop Fahrenheit's business by building and maintaining strong relationships with corporate level executives and referral sources and providing clients with customized strategies for solving their challenges and growing their business. As Fahrenheit West's managing director, she also leads and manages the office's consultants and operations. Contact Rachel at rlutowsky@fahrenheitadvisors.com