COVID-19: 4 Tips for Hiring Great Talent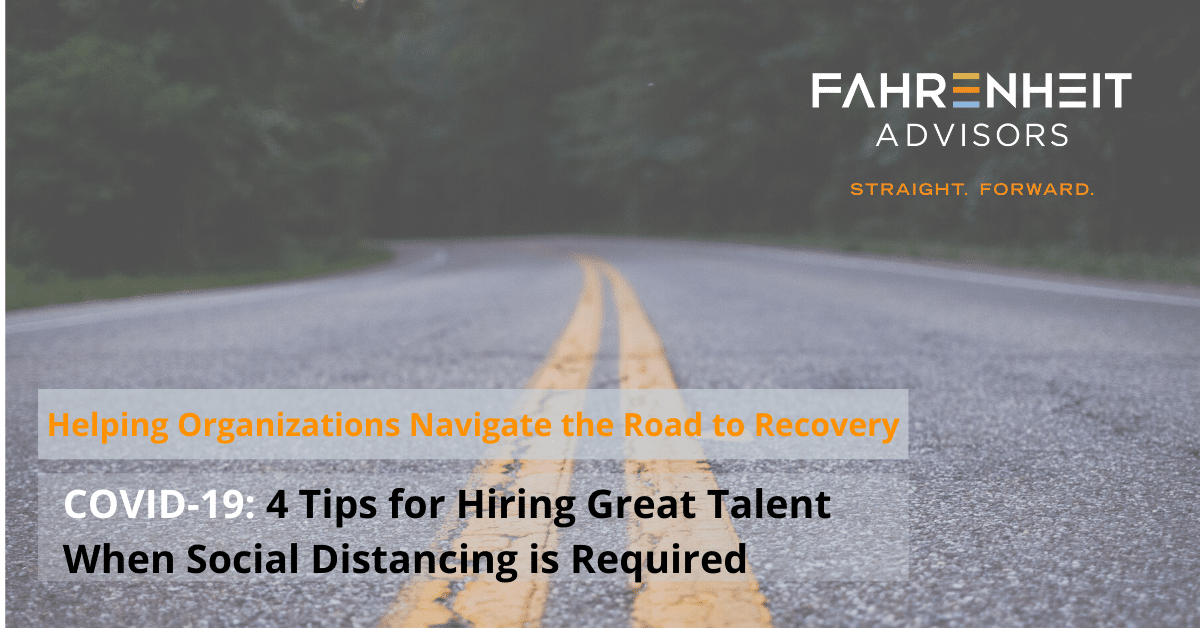 Fahrenheit Advisors' Executive Search and Recruiting team is actively helping our clients navigate these unprecedented times with their hiring needs. Here are some tips/tricks we have found helpful in navigating this new process:
1) Make the Job Profile Work Harder For You
We always advise our clients to integrate information about their company culture into job profiles for search engagements. However, most often, we see companies limiting their posting to the job descriptions and technical skillset for a job. The best practice and certainly, during a time when we are focused on virtual recruiting, it is even more important to highlight the softer skills and company culture in the job profile.
Here are some ideas on how to do this:
Incorporate descriptions of company values into the required soft skills section
Consider adding some background/company history
Create links to allow the prospective candidate to explore your company on social media or recent press releases
Add a personal touch from the hiring manager
2) Outlining the Interview Process
Switching to virtual interviews when hiring managers and decision makers are used to a face-to-face interaction may seem odd at first. However, outlining the interview process and defining expectations for each step of the process will be key in creating an effective interview and candidate experience. We have encouraged our clients to mirror their typical recruiting process in a virtual environment as best they can. Maintaining your interview rhythm is important.
Remember:
Even when we are all working in a virtual world, we are still working. Respect the time commitment.
Now more than ever, everyone in your interview process will need to showcase why your opportunity is worth the time investment and career move. Prepare your team to articulate your culture, the impact the position will have on the organization and the potential keys to being successful in the role.
Set follow up expectations and clearly defined next steps.
Make sure those included in the interview are prepared for the video interview. This is a great time to review and coach interviewers on how to video interview and provide a few tips for using video conference software:

Stay muted when not talking
Maintain eye contact with the candidate just as if an in-person interview
Don't look at phone, emails, etc. while on screen
Remind interviewers that they should care less right now about appearance, background and physical queues than they would during a typical in-person interview. Candidates are potentially home with kids, sharing an office with a spouse and could be generally more anxious than normal times
3) Communication is Key
Communication is more important than ever in a virtual world. We are adding more touch points throughout the hiring process to keep both the candidate and hiring manager engaged. We are testing audio/video technology with candidates to insure they function properly ahead of the actual interview. We are scheduling debriefing calls with both the candidate and hiring managers to be sure feedback is captured. Communicating next steps and the timing of each is important in world of constant change. Because start dates may be delayed due to COVID-19, it is critical to maintain consistent communication so a newly hired employee starts to assimilate ahead of being able to be in the new company's space with his/her new team.
4) Navigating a Decision "Sight" Unseen
One of the most difficult adjustments is making final hiring decisions without the ability to meet in person. We have helped our clients overcome this hurdle as well. Here are some useful tips:
Share a virtual, recorded tour of the office space. Some organizations have a professionally produced video already available, while others can simply walk through the office with a phone video camera and provide a guided tour. No need to be perfect here, but it is important for candidates to get a sense of the space
Create a company culture page on your website or provide links to your social media that will help to shed more light into employee engagement and life at your organization
Make sure social media content is updated and relevant
Provide relocation tools such as a guide highlighting school districts, attractions, hotels, restaurants and links to other resources
Provide local realtors' contact information
Schedule some more informal one-on-one video meetings with candidates and peers to talk about work culture and to be prepared to answer questions
If state "shelter in place" restrictions lift before your office is reopened, consider meeting the candidate outside in a public setting for an informal meeting. Find a park, bring a chair and sit outside to talk
We are helping our clients develop talent acquisition strategies that allow them to adjust to a rapidly changing market during the COVID-19 crisis. Modifying hiring processes and incorporating practices like these will help ensure your company does not lose its competitive talent advantage during this pandemic. We are here to help you not only keep your business moving forward but ensure you have a valuable pipeline of talent ready when you need it. Please reach out to us at recruiting@fahrenheitadvisors.com or learn more about our Executive Search & Recruiting Services on our website- fahrenheitadvisors.com.
About the Author
Amanda Maino is a skilled human resources professional with expertise in recruiting, developing, and engaging employees across a variety of industries including professional services, higher education, transportation, and technology. Her broad understanding of human resources issues combined with a focus on benefits, compensation, and wellness programs allows her to implement Fahrenheit's strong, customized hiring process. She partners with clients to understand their business, industry, and culture and then strategically sources qualified candidates.