6 Best Practices to Optimize Employee Onboarding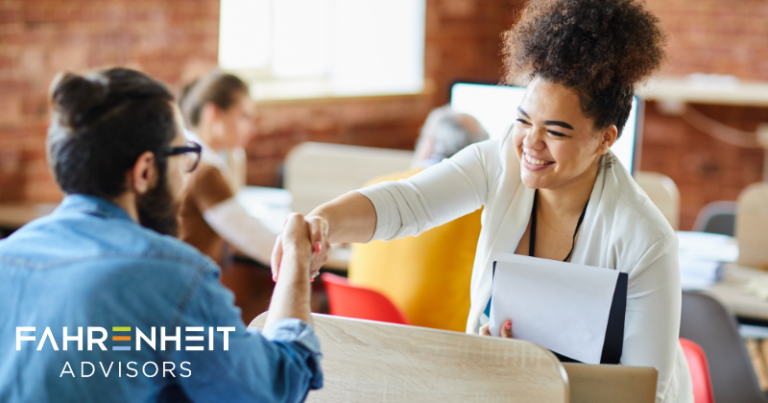 Onboarding new employees builds foundations that are relevant to your organization, such as your mission, vision, corporate culture, and employee value proposition (EVP). If you consider that it can take a year for new employees to perform at full capacity in their new roles, your goal should be to set new colleagues up for success and ensure the health of your organization from the very beginning.
Unfortunately, a Gallup study shows that only 12% of employees strongly agree that their organization is doing a great job onboarding new employees. Along those same lines, 20% of all staff turnover occurs within the first 45 days of employment. This can be a direct result of poor onboarding. On the other hand, if you provide your employees with a great onboarding experience, you could improve new hire retention by as much as 82%, and new hire productivity by over 70%. How do you optimize your onboarding processes to ensure a successful transition?
No matter the size of your organization, key areas to cover in this process include legal compliance, logistics, leadership support, training, corporate culture, and employee engagement. Here are some best practices to optimize your onboarding process and ensure a successful new hire experience.
6 Best Practices to Optimize Employee Onboarding
1.) Outline Your Onboarding Goals and Objectives
Structure the content of your onboarding program and establish projected timetables. Determine the goals and objectives of the process for new hires, as well as key stakeholders who will take ownership and assist with the process, such as human resource associates, hiring managers, trainers, mentors, and other team members. Solicit input from the key stakeholders and resources who will be involved in the process and ask for feedback on your onboarding process from your employees as you define your objectives. Every new hire is unique, and you will want to tailor the onboarding process to meet the needs of different roles. For instance, the process will be different when onboarding an executive, or a fully remote worker, or a contract worker. However, much of the onboarding process can be systemized and duplicated for consistency and ease.
2.) Emphasize Your Pre-Onboarding Process
Engage with your new hire immediately and often. Your new hire may have been exploring other employment options prior to accepting your offer. If your pre-onboarding efforts aren't spot on, you could lose your new team member before they even start! Whether you are onboarding virtually or in person, this is your new team member's first impression. Your new hire wants to feel like they made the right decision! Send out a welcome packet, either virtually or have it delivered. Set up virtual and/or in person "meet and greets" with leadership and team members in advance, and send out a brief, introductory email with some basic facts about your new team member to the rest of your team. Provide your new hire with a checklist and make every effort to consolidate the process in a way that isn't overwhelming. Most of the onboarding paperwork can be done online, including compliance and benefits documents, so take advantage of opportunities to optimize and go paperless.
Moreover, making the investments in your organization's use of virtual or automated HR onboarding processes, like document management, will also make onboarding nearly or entirely seamless from the new hire's point of view. Having a system assist with onboarding has another very important advantage – the ability to scale quickly and efficiently. If you can onboard 100 new employees in a day with the same efficiency, accuracy, and workflow as one new colleague, you're expediting the process and conveying a welcome sense of organization and structure to new hires.
3.) Provide Your New Hire with a Mentor or Buddy
Consider the overall well-being of your new employees. Pairing your new team member with an experienced member of your team for the first 30-90 days can help your new hire adapt easier and be more productive sooner. It provides new employees much needed support, a peer to reach out to with questions, and helps them feel more connected. It's also mutually beneficial, as being an onboarding mentor or buddy provides an opportunity for growth and development, as well as demonstrates leadership skills. When assigning a mentor or buddy, be sure to consider whether that individual has the knowledge, the time, and the interest, and that they exemplify your corporate culture.
4.) Day 1 – Make First Impressions Count
The first day on the job is extremely important to the onboarding process, and you want to make a good impression. Whether in person or virtually, the hiring manager should be the first face the new team member sees on Day 1. The hiring manager should be fully prepared and should be completely accessible. If the new team member is working onsite, have their desk or workspace fully equipped and ready to go. Whether onsite or remote, provide them with a welcome note, a detailed schedule or agenda and a gift or office swag. Ensure that either the hiring manager or mentor takes them to lunch on the first day, or, if remote, arrange a virtual lunch. Plan a team happy hour or lunch for the first week (in person or virtual) to introduce your new hire to the rest of the team.
5.) EsTablish a 30-60-90 Day Orientation Plan
Ultimately, it is the manager's responsibility to ensure successful onboarding of their new hires. Managers should check in often during the first 30 days and continue to check in regularly with the new hires as well as their designated mentors. Don't assume that no news is good news. Proactively inquire if the new team member has any questions or concerns and solicit their feedback. Managers need to ensure new employees understand their roles and the expectations of their jobs, and that they have the tools and knowledge to be successful. Your new hire will be "drinking from the firehose," and having a structured plan and timetable in place with frequent check-ins can prevent them from feeling overwhelmed. As you meet with your new team member towards the end of their orientation period, don't forget to establish a development plan to ensure their future growth.
6.) Share Your Organizational Culture Early and Often
You are building the foundation for your new team member throughout the onboarding process. Your mission, vision, values, and corporate culture should have been shared in the interview, should be in your employee handbook, and should be reviewed often throughout the onboarding process. Your employee value proposition (EVP) is what you promised when you hired them. They should be experiencing it first-hand during onboarding. New employees need to understand the purpose of your organization, and the role that they play. If your goal is to create a sense of belonging, then your corporate culture needs to be conveyed consistently, and your new team member needs to experience it. Leadership needs to be involved and invested. This means "talking the walk" and "walking the talk" – being able to verbalize, communicate, and demonstrate their organization's mission, vision, values, and culture.
Your new hire has made a commitment to your organization. Likewise, your organization has made a commitment to the new hire. The onboarding process is the opportunity for your organization to fulfill the promises made during the hiring process. Your onboarding process should have goals that not only align with, but support and build upon your organization's strategy. Streamlining your onboarding process, and aligning it with your organizational strategy, will promote a positive onboarding experience, and set your new hire up for success. Continue to gather feedback to enhance your onboarding process to ensure the well-being of and success for all future team members. Remember that the onboarding process is a journey – make it exceptional and memorable!
Ready to develop and implement an optimized onboarding process that sets new hires up for long term success? Contact us at Experts@FahrenheitAdvisors.com today.
About the Author
With over 25 years of experience, Katherine Zampolin provides a broad range of experience in leadership development, coaching, corporate culture, and talent management. Through her authentic and practical approach, she partners with organizations to help them strengthen their culture, engage and develop their employees, and reach their goals.  Katherine has facilitated a broad range of training programs across all levels, with topics ranging from leadership skills and organizational change to diversity and inclusion and team building.