5 Common HR Mistakes Made by Small Businesses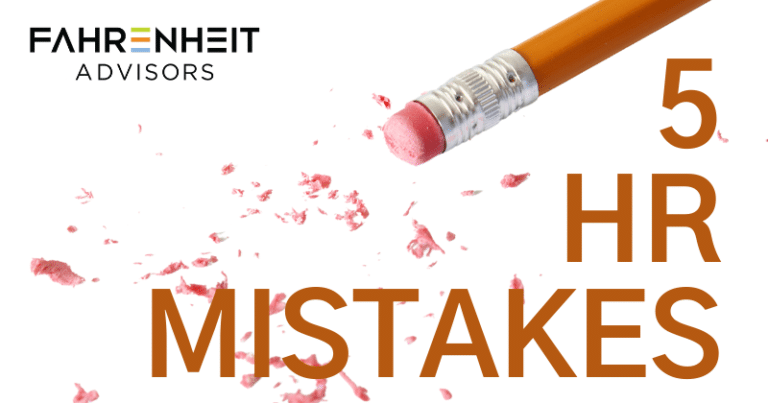 Sometimes small firms have the best intentions but don't always know the HR mistakes they make. Here are five of the common HR mistakes small companies make and the risks associated with them.
1. Not Having or Updating Your Employee Handbook
If you do not have an employee handbook, it's time to put one in place. Having a handbook will document company procedures and benefits for employees as well as outline policies to help avoid issues such as employee conflict, discrimination, and wrongful terminations. If you have a handbook, are your policies up to date for 2021? Does it clearly represent the core values and culture of your firm?
2. Not Complying with State & Federal Laws
HR compliance with state and federal laws is often based on the size of your company. Requirements vary from companies with under 15 employees to over 100 employees and employment laws change constantly. Ensuring you are in compliance with wage and hour laws, record keeping, and other mandated requirements helps avoid the risks of internal complaints, investigations, or lawsuits. Is your company at risk for non-compliance?
3. Not Having Sound Recruitment & Hiring Practices
Recruitment is no longer a "who do you know" process. It requires a talent management strategy for hiring based on current and growth workforce needs. Having job descriptions in place documents the duties and requirements for current and new positions along with providing the basis for job ads. Interview processes should be consistent by position with selection based on consistent criteria. Do you have a recruitment strategy that takes you beyond today?
4. Not Having an Onboarding Process Beyond "New Hire" Paperwork
Onboarding programs are one of the keys to a successful hire. While paperwork is required, the process should integrate the employee into the company including values and core culture. Onboarding should include introductions to management and peers, a review of the company policies and procedures, software training as needed and a plan for ongoing onboarding training. Is your new hire process engaging employees from day one?
5. Not Ensuring Your Employees Are Engaged Through Communication & Leadership Practices
Communication is key to your company's success regardless of the size. Employee engagement and satisfaction increases with ongoing communication regarding the company and strategies. Leadership practices must include consistent messaging such as during the current pandemic. Ensuring your employees feel informed and valued through ongoing communication is essential to an engaged workforce. Do your leaders speak as one delivering consistent messages?
If you have concerns about any of these, Fahrenheit Advisors Human Capital Team can help. Our team will hit the ground running with a HR Assessment to help you avoid these mistakes. Our expert team of HR consultants have multiple skill sets to assist with talent management, employee engagement, compliance, performance management, compensation, benefits and diversity, equity & inclusion. Reach out to us at Experts@FahrenheitAdvisors.com.
About the Author
As a Senior HR Consultant, Martha Youngblood brings 20+ years of senior management skill leading human resources for organizations of all sizes. Her signature skills include strategic human resources planning, developing policies and procedures, designing performance and engagement strategies, and compensation. She is experienced in talent management including executive search and onboarding strategies. Her strong client communications skills allow her to utilize all of these in a fractional HR role or in a project capacity working directly with the client to achieve specific results.