Microsoft ERP Software: Yesterday, Today and Tomorrow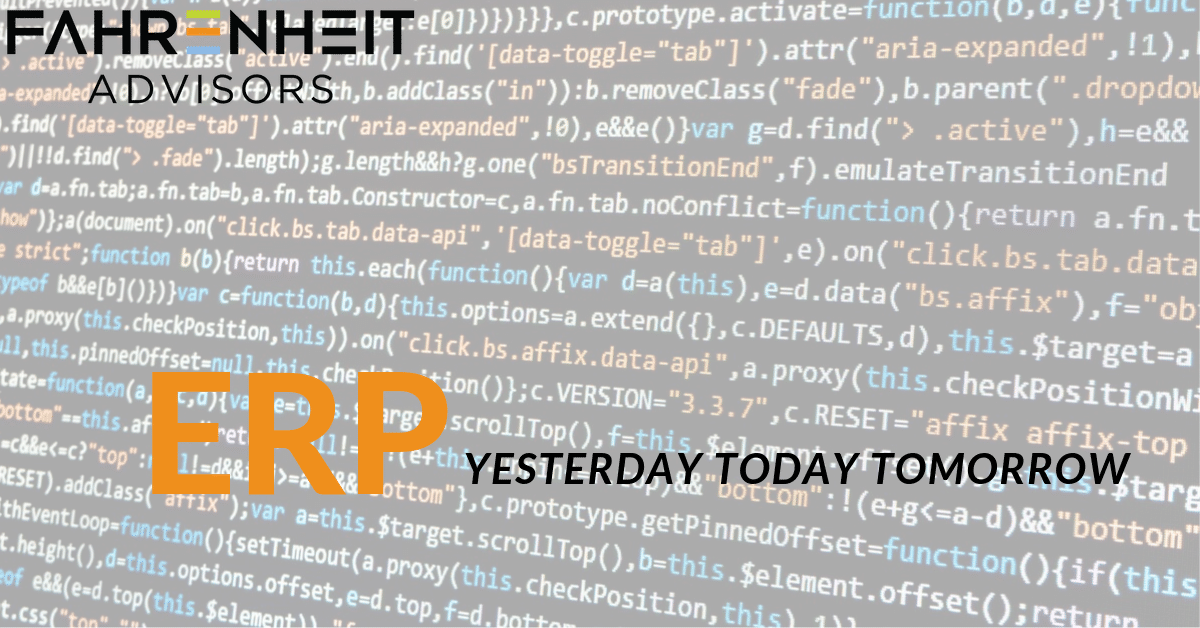 At a certain point, most growth-oriented companies decide to invest in ERP (Enterprise Resource Planning) software. ERP is software which integrates various business functions into one related system to streamline processes and information across an entire organization. It is a shared database which can tie in manufacturing, inventory, purchasing, sales, accounting, HR, etc.
Reasons a company decides to invest often include a desire to improve internal business processes and overall performance. Benefits might also include cost/expense reduction and streamlining or automating certain processes across departments.
The decision to select ERP is often confusing. There are an enormous number of ERP solutions from which to choose, with complex pricing schemes and implementation can be disruptive.
While cautionary tales abound (like Hershey's 1999 failure to meet Halloween demand), wise companies approach an ERP conversion with the right balance of planning and well-managed expectations, as described by Russ Gambrel in a recent article.
But I wonder, how did the landscape become complicated? To make sense of it all, it helps to take a historical view.
MICROSOFT ERP: A HISTORICAL OVERVIEW
In 2001 Microsoft acquired Great Plains Software. From that 2001 acquisition, MSFT marketed both Dynamics GP (Great Plains) and Dynamics SL (Solomon). Accounting for small to mid-sized companies was the focus of Dynamics SL. Dynamics GP also focused on accounting, but in addition included functionality in support of both manufacturing and distribution.
Following closely on the heels of their 2001 Great Plains acquisition, Microsoft acquired Navision in 2002. That acquisition allowed Microsoft to secure assets which were developed into Dynamics AX (Axapta) and Dynamics NAV (Navision Financials). Dynamics AX's robust manufacturing capabilities enabled Microsoft to compete with both Oracle and SAP in complex global implementations. Dynamics NAV featured a highly customizable platform across financial, manufacturing and distribution capabilities.
While these four "flavors" of Dynamics (e.g., GP, SL, AX and NAV) allowed Microsoft to market its ERP solutions across a broad spectrum of customers, it also led to ongoing product selection and migration confusion for customers.
MICROSOFT SHIFTS STRATEGIES
There have been shifting patterns of Microsoft ERP developmental strategies and communication "phases" with users, developers and partners over the past 20 years.
Microsoft considered the original purchase of Great Plains to have provided a sufficient software platform to build out a robust and scalable ERP solution. However, in short order Microsoft realized that additional capabilities would be needed to realize that objective, as evidenced by the quick follow-on acquisition of Navision. For the decade following that 2002 acquisition, Microsoft claimed that each of the various versions of their ERP family would be synthesized into one unified ERP offering, providing customers with a robust, scalable, highly functional ERP solution. That objective was not realized. The four flavors of ERP continued along their own unique developmental paths.
Over the past decade, customers continued to complain about version/function overlap and confusion and worries mounted about just what was the developmental plans for Microsoft's ERP solutions – conflicting information from Microsoft at times added to the perplexity and anxiety of both customers and partners.
The proliferation of SaaS, migrations to the cloud, ever growing use of browser based hand-held devices (e.g. tablets, phones, etc.), growing use IOT (Internet of Things – non-manual input/monitoring devices woven into ERP) – and the fact that both Dynamics SL and Dynamics GP essentially do not function outside the USA – compelled Microsoft to refine and consolidate their ERP offerings.
For all intents and purposes, the development of both Dynamics SL and Dynamics GP has come to an end. While Microsoft has claimed that there will be ongoing support for these products, the partner/developer world states that Redmond no longer returns calls regarding these two products – the sun has set on Dynamics SL and Dynamics GP.
The global platforms and functional suites of both Dynamics AX and Dynamics NAV have been integrated and packaged/branded into "Dynamics 365 for Finance and Operations." Stand-alone AX and NAV persist, but our bet is that eventually both AX and NAV will be "sunsetted," as have GP and SL.
WHAT DOES THIS MEAN FOR MICROSOFT ERP USERS OF TODAY?
If you are a Dynamics GP or Dynamics SL user, Microsoft has concluded development and support of both these products, with limited "bug fixes" provided only through 3rd party development. Support for each customer will now need to be provided by either their own internal developers and or external partners/consultants.
Dynamics AX and Dynamics NAV users will continue to have MSFT support but probably not for long – the trend is toward product unification around Dynamics 365 for Finance and Operations.
Many companies have also sought external help with ERP integration. A seasoned consultant(s) can assist in the assessment and scoping of current and future needs, and can guide clients through the software selection process and implementation phase. Has your company experienced successes or complications in the ERP process, or are you currently considering such an integration? Email me anytime. I would be glad to talk with you about your project and how Fahrenheit might be able to assist.
About the Author
Ben Shealy is a Managing Director for Fahrenheit Advisors. Ben is an accomplished senior management and finance executive with extensive experience in fund-raising, accounting, FP&A, and business systems design, implementation and refinement. Highly proficient written and oral presenter of data, analytics and recommendations to a wide variety of corporate, public, private and regulator stakeholders.