CASE STUDY: Leveraging C-Level Fahrenheit Consultants Grows a Business
When you've been in business for 30+ years, you're bound to experience highs and lows. In 2008 and 2009 — like many other small businesses — Target Marketing felt the pinch.
Fast forward to today, the company has since merged with the Image Group of Toledo, Ohio to become the 38th largest promotional marketing company in the industry, working with what Target co-founder Jay Nathanson describes as "blue chip companies here in Virginia and across the country."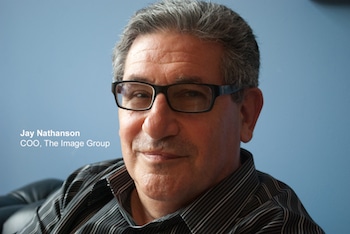 "We're entrusted with managing their brand and bringing their brand to life via promotional branded merchandise, and in other promotional opportunities," says Nathanson, now chief operating officer. "We manage their brands, we manage logos, we manage promotions. Our overall goal is to help our clients be seen, be remembered, and to achieve their objectives that have anything to do with their brand in the marketplace and/or internally in their companies."
Sales are up and clients are happy, but, Nathanson admits it hasn't been an easy journey, especially during the early years, when he struggled to find a controller to help him manage the business finances and during the Great Recession and his 2017 merger.
Nathanson has learned that the best way to nurture and grow the business he formed in 1987 was to invest in project-based fractional talent to help him tackle strategic planning, management coaching, financial planning, and more. More specifically, he turned to Fahrenheit Advisors.
Fahrenheit  co-founder, Keith Middleton, was Nathanson's first fractional consultant. Nathanson used Middleton's financial expertise to improve accounting processes and assist with special financial projects. Over the next five years, Middleton ultimately became a trusted partner, acting as a sounding board to his finance and accounting teams. Soon, other fractional members from Fahrenheit were added to the mix.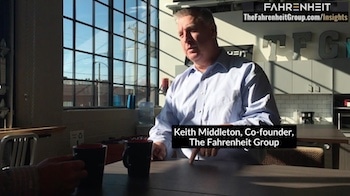 "I started to really rely on Fahrenheit for any time that I needed to outsource for talent, either on a project basis or on an ongoing basis, and mostly in, what I would call, fractional situations. It really became a great opportunity for me to be able to grow the business without making the investments of full-time people."
He adds, "I would have to attribute, over the last 10 years or so, a lot of the success of our company to my relationship with Fahrenheit and their ability to help support us through our various challenges."
Nathanson Leverages Fahrenheit for Fractional CFO Services, Financial Planning & Analysis, Strategic M&A Advice, and More
Nathanson's business has grown by leveraging the diverse backgrounds and experiences of the consultants within Fahrenheit. They've helped him with financial matters, like budgeting for capital investment and the creation of forecasting models and the C-level team has also assisted him with strategic challenges — like strategic planning and merger assistance. In Fahrenheit, Nathanson has also found a coach for his management team and an advocate for a better banking relationship.
"The people that I kept meeting, not only were they talented, but they all brought a little something different to the table, which I was able to, I think, leverage. All of a sudden, I'm getting experience from one person that may have done this at a Fortune 500 company, and another person that's maybe out of school for a few years but, also, got some new cutting-edge views on things. Very, very happy with that," Nathanson says about his experience.
Nathanson says specifically about his management team coach, Greg Owens, "He was very, very good about working with people and coaching them. We also set up an arrangement where any member of the management team could reach out to Greg personally, get some coaching. And so it was just always very nice to know that somebody with that skillset was available to us on somewhat of an a la carte basis."
Greg's unique, Fortune 500 perspective was just what Nathanson needed for his team. And a new perspective was also what he needed when he found his merger negotiations in limbo.
"And Right Out of the Gate He Looked at It and Said, 'No, It's Really Not. This is Really a Strategic Transaction. Let Me Tell You Why.'"
It was around 2016 when Nathanson and his business partner realized it was time to expand the business' footprint beyond the Mid-Atlantic region. They needed a good, strategic partner to merge with.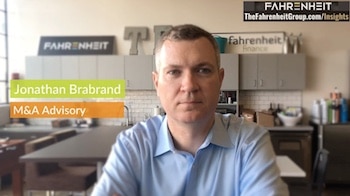 Nathanson and his partner found what they were looking for, but negotiations stalled. Fahrenheit Consultant Jonathan Brabrand stepped in to offer a different perspective.
"Everybody was really approaching the deal in the beginning from a financial perspective. Like this is a financial transaction. And right out of the gate he looked at it and said, 'No, it's really not. This is really a strategic transaction. Let me tell you why.'
There is nothing more challenging in my opinion, than merging your business, or perhaps selling your business, especially one that's … If it's one you founded, it's kind of your baby. So basically there was a lot of emotion that was attached to this transaction," explains Nathanson. "He was able to understand that, and kind of get in there and translate what both sides were saying to each other, in a good way. So I want to say very pleased with the work he did, and now we're a year, a year plus, into the merger and by a short view of how you would measure the success of the merger, it's been great. We haven't lost any clients. We haven't lost any employees. Our sales are up. Profits are up, so it was a great opportunity for our company"

"It's a Very, Very Efficient Way to Use Expertise."
"I would highly recommend Fahrenheit, especially for any small to medium size business that is growing, that is facing different challenges. And the thing about Fahrenheit that just makes it so easy to work with, is they've got a great, great variety of individuals who are at your disposal. There's very few problems that I have encountered that you can't pick up the phone, make a phone call and get an expert to be working with you very quickly." Nathanson adds, "It's a very, very efficient way to use expertise. And we've enjoyed working with them and continue to want to work with them in the future."
Do you need help tackling a business challenge or managing your growth? Contact us. We're ready to help!