Financial Statements Tell Your Business' Story, Inside and Out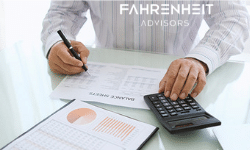 As a business evolves, it will encounter the need to build credibility with outside parties, such as investors and lenders, and to make well-informed strategic decisions. In short, financial statements are a necessity. Typical components are an income statement, a balance sheet, and a cash flow statement. Also frequently included: a retained earnings/equity statement and a notes section. Financial statements tell an important, ongoing narrative of your company. We can help you generate these reports to the highest standards and use them to your best advantage.
Fahrenheit's team of seasoned finance consultants bring their decades of experience leading finance organizations to bear in helping our clients improve their financial reporting and ultimately drive top-line growth. Contact us today to see how we can help you position your company for growth through instilling accountability and rigor in your financial reporting processes and statements.