CASE STUDY: Increasing Profitability Through Reporting, Data, and Analytics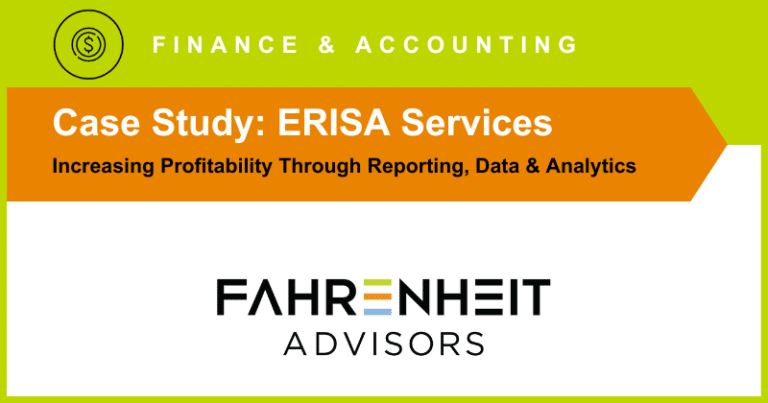 Fahrenheit's Finance & Accounting team delivered greater financial clarity, actionable insight, and increased revenue to a fast growing regional administrator of retirement plans. The following case study summarizes the engagement.
THE SITUATION
ERISA Services, Inc., a family-owned, regional administrator of retirement plans for small and mid-size companies, enjoyed explosive growth over the years, recently launching affiliated companies in new states across the south. Lack of resources and time prevented leadership from accessing and using customer and financial data to its greatest potential, which clouded customer profitability, total costs, and other important metrics. To improve financial visibility, ERISA retained Fahrenheit Advisors to evaluate its financial position, understand customer profitability, and improve processes going forward.
OUR APPROACH
Fahrenheit Advisors' finance and accounting consultants Carrie Geldreich and Rob Keaton performed an organizational assessment of ERISA's financial resources and operations, identifying opportunities for process and reporting improvement. The team analyzed financial reporting, invoicing, payroll, contracts, rates for services, and more. The review led to linking customer database information to accounting and timekeeping systems to better assess customer profitability. Together with better consolidated reporting, the project delivered financial clarity that accelerated top line growth.
THE RESULTS
Accessible, consolidated financial reporting gave C-suite executives actionable financial intelligence. The new insight allowed ERISA to pay off a line of credit confidently. Improved access to customer data, billing rates, and costs also revealed that thinning margins resulted from pricing that had remained static for years, despite continued hiring and geographic expansion. This knowledge led to a strategic opportunity to justify a near company-wide rate increase that generated an incremental profit of $450,000. Work continues to deliver automation improvements that will save time and reduce the risk of errors inherent with manual processes.

Here is more information about our Finance & Accounting Practice. Let's get started identifying opportunities for process and reporting improvements resulting in increased financial clarity in your company – Experts@FahrenheitAdvisors.com.