Built Around Real World Experiences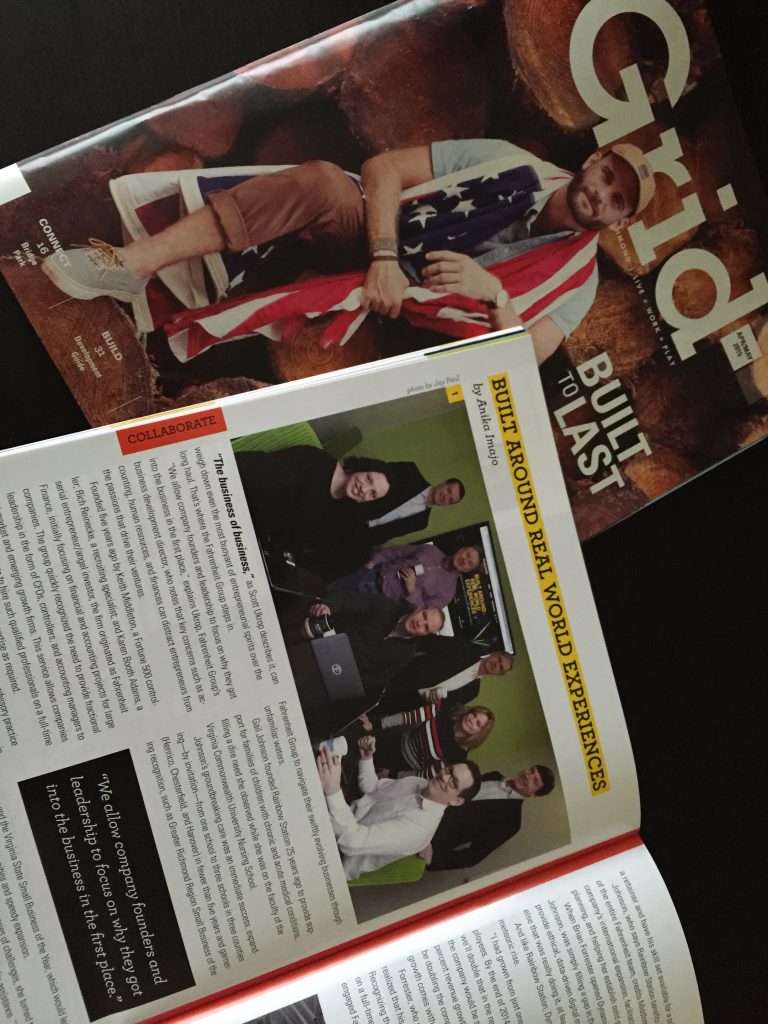 By Anika Imajo, Grid
"The business of business," as Scott Ukrop describes it, can weigh down even the most buoyant of entrepreneurial spirits over the long haul. That's where the Fahrenheit Group steps in.
"We allow company founders and leadership to focus on why they got into the business in the first place," explains Ukrop, Fahrenheit Group's business development director, who notes that key concerns such as accounting, human resources, and finances can distract entrepreneurs from the passions that drive their ventures.
Founded five years ago by Keith Middleton, a Fortune 500 controller; Rich Reinecke, a recruiting specialist; and Karen Booth Adams, a serial entrepreneur/angel investor, the firm originated as Fahrenheit Finance, initially focusing on financial and accounting projects for large companies. The group quickly recognized the need to provide fractional leadership in the form of CFOs, controllers, and accounting managers to mid-market and emerging growth firms. This service allows companies that lack the budgets to hire such qualified professionals on a full-time basis to take advantage of their expertise as required.
In 2009 the founders of Fahrenheit Group sensed that the decaying model of the traditional consulting firm was ripe for reinvention. Today the Richmond-based consultancy boasts more than 600 years of collective corporate experience.       
"The firm expanded within the last year with an advisory practice consisting of former CFOs, COOs, and CEOs focused on companies in transition, looking to get to the next level whether it's pre-capital raise, rethinking their go-to-market strategy, or looking for an eventual exit," Ukrop says. "2015 also saw the merger with Metro DC-based AXEO providing HR-specific consulting projects and fractional HR positions for small to mid-sized companies.
Rainbow Station and Dynamic Web Solutions, two Richmond-based ventures thriving in very different niches, sought the guidance of The Fahrenheit Group to navigate their swiftly evolving businesses through unfamiliar waters.
Gail Johnson founded Rainbow Station 25 years ago to provide support for families of children with chronic and acute medical conditions, filling a dire need she observed while she was on the faculty of the Virginia Commonwealth University Nursing School.
Johnson's groundbreaking care was an immediate success, expanding — by invitation — from one school to three schools in three counties (Henrico, Chesterfield, and Hanover) in fewer than five years and garnering recognition, such as Greater Richmond Region Small Business of the Year and the Virginia State Small Business of the Year, which would lead to franchise opportunities and speedy expansion.
When Johnson eventually hit a series of challenges, she turned to the seasoned business minds of The Fahrenheit Group for assistance. "In 2011, we knew we needed strategic financial help," she explains. "With our accountant's and our banker's help, we found Fahrenheit. What a gift. We were fortunate to hire Keith Middleton's big brain and extraordinary experience for a retainer and have his skill set available for a price we could afford."
Johnson, who says Rainbow Station benefits from the varied expertise of the entire Fahrenheit team, credits Middleton with guiding the company's international expansion, facilitating its current succession planning, and helping her establish solid groundwork for its future.
When Brian Forrester opened Dynamic Web Solutions in 2009, he, like Johnson, was simply filling a gap in the local marketplace."I wanted to provide ethical, data-driven digital marketing and I couldn't find anyone else that was really doing it, at least not doing it well," he shares.
And like Rainbow Station, Dynamic Web Solutions experienced a meteoric rise.
"I had grown from just one employee (me) to a full staff of 10 employees. By the end of 2014, we had 16 employees and are anticipating we'll double that in the next 12 to 16 months. While I anticipated that the company would be successful, I had no idea we'd experience 840 percent revenue growth with zero debt — and zero outside funding — and be doubling the company every year. As you can imagine, that sort of growth comes with new and unforeseen challenges."
Forrester, who says he believes in "outsourcing my weaknesses," realized that his young venture required the strategic input of a CFO. Recognizing that such an officer was neither affordable nor necessary on a full-time basis at this point in his young company's development, he engaged Fahrenheit's Gary Levine as a fractional CFO.
"Now we are building financial models and course correcting like a much more sophisticated company might do, allowing us to further break away from the pack and cement ourselves as the most professionally run, results-driven digital marketing firm in Richmond," says Forrester, who points out that Levine's contributions to his enterprise haven't been limited to financial matters alone. Encouraging the newly minted business owner to define goals and start long-term planning, Levine is helping him lay the foundation for a lasting, thriving enterprise.
Ukrop explains that Fahrenheit's effectiveness in guiding businesses is due, in part, to the fact that its team is composed of professionals who have spent most of their careers in the same position as the individuals they serve. And the firm's affinity for the emerging companies they nurture inspires confidence in clients such as Forrester.
"As our company grows, Scott Ukrop and the team at Fahrenheit have made themselves available for us on numerous occasions," Forrester shares. "It's awesome to have such an entrepreneurial-focused group in our own backyard that is fostering growth and innovation. And since they are a relatively new company, I'm always watching them to see what they will do next."
"We allow company founders and leadership to focus on why they got into the business in the first place."
"Fahrenheit's effectiveness in guiding businesses is due, in part, to the fact that its team is composed of professionals who have spent most of their careers in the same position as the individuals they serve."