CASE STUDY: Assessment & Successful Executive Search Enhances Sales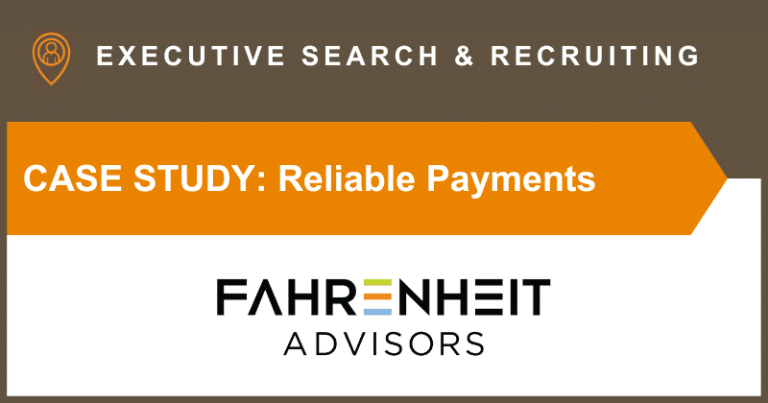 The Situation
Reliable Payments provides merchants with tailored payment processing services and consultative solutions. Its programs are adaptable to help businesses across industries operate at their best.
During the pandemic, the firm experienced a significant turnover in sales leadership. CEO Patrick Gallagher stepped into the role to stabilize the team. Wanting to hire a seasoned sales leader with industry experience and to develop sales processes and metrics that would generate more leads and close business faster, he engaged Fahrenheit Advisors.
Our Approach
Fahrenheit conducted a sales assessment, which included one-on-one interviews with team members to understand their concerns. Recommendations from the assessment included key competencies to identify in a new VP of sales, process improvements, and skills development for team members.
During the search for the VP of sales, Fahrenheit provided interim sales coaching and implemented improvements to the sales process to help with lead generation, weekly cadence, and support to ensure consistent execution and measurements.
Leveraging the data from the assessment and the interim engagement, the Fahrenheit team worked with Gallagher to successfully attract and fill the VP of sales position through the development of a thorough sourcing strategy and proactive outreach to candidates in the merchant services industry.
"I cannot recommend Fahrenheit Advisors highly enough and will, without a doubt, be working with the Fahrenheit team again."
— Patrick Gallagher, CEO
The Results
Hired an experienced VP of sales within three months
Retained 100% of key sales team members
Refined and implemented a scalable sales process that drove a significant increase

in deal closings
"I have good pieces and processes in place, thanks in large part to the help

 Fahrenheit provided," Gallagher said. "They blew my expectations out of the water."
Engage Fahrenheit's Executive Search & Recruiting team to find your next dynamic sales leader and our Sales Advisory experts to assess your unique organizational needs and identify opportunities to move your organization STRAIGHT. FORWARD.