CASE STUDY: Fractional CFO Helps Software Company Grow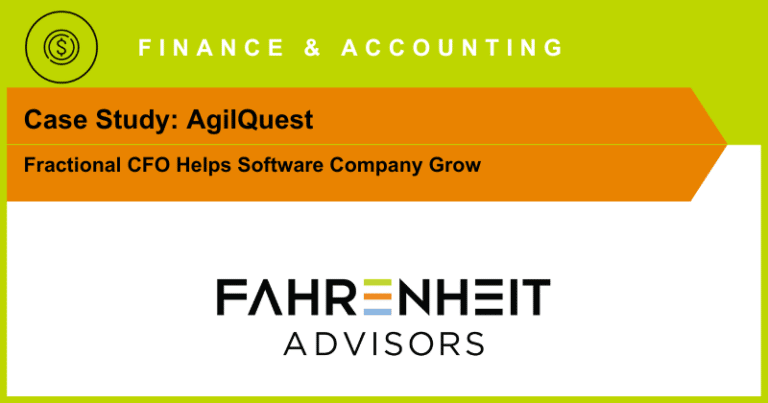 Fahrenheit Advisors deployed exactly the right CFO talent at the exactly the right time for a growing software firm encountering unexpected turbulence.
The Situation
When AgilQuest's CFO suddenly and unexpectedly left for another opportunity, the software company faced disruptions as it transitioned from an enterprise solutions provider to a cloud-based Software-as-a-Service platform. It turned to Fahrenheit Advisors to maintain course.
Our Approach
Fahrenheit recommended that AgilQuest engage a fractional CFO, an expert who does the job on a part-time consulting basis. Fahrenheit's Mike Moore, a CPA with extensive corporate experience and knowledge of SaaS accounting practices, was available and stepped into the role seamlessly bringing decades of relevant industry insight, a collaborative approach, and new thinking that exceeded expectations.
The Results
Mike's experience, skills, and character made a substantial impact at AgilQuest, where he quickly became a valued partner in a business journey that accelerated because of his involvement.
The engagement was a fraction of the cost compared to a full search and hire of a new full-time CFO, helping the firm conserve cash during a transitional phase
Forecasting, expense management, and other core processes were streamlined, and manual tasks were automated
Monthly close, which typically took more than five weeks, improved to five days
Increasingly complex taxes were, for the first time, filed on time without extension requests
Improved financial operations and reporting generated better business intelligence, empowered executives to focus on other priorities, and facilitated the company's acquisition by Tango.
"Mike is a remarkable talent who worked with our Director of Operations and leadership team to perform all the financial activities better and faster," John Vivadelli, AgilQuest CEO, said. "And he did it all in just a few hours each week."
A DOWNLOADABLE PDF OF THIS CASE STUDY IS AVAILABLE HERE.
Our fractional CFOs, controllers and other finance and accounting experts provide a unique approach to partnering with you, with practical solutions, on an "as needed" basis. Contact us today.