Case Study: Competitive Intelligence Helps Manufacturer Grow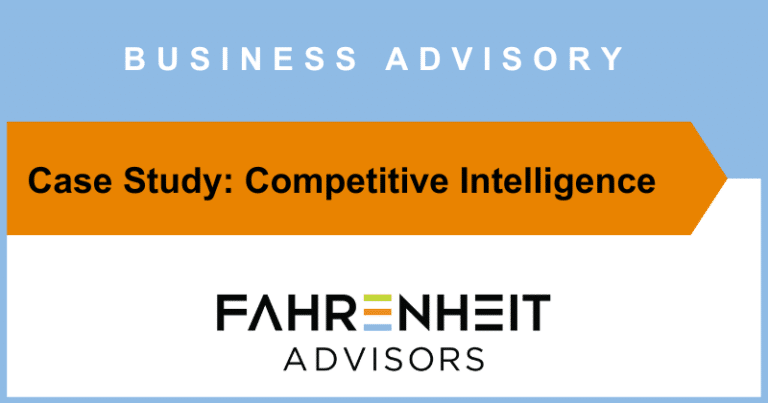 Fahrenheit Advisors' Peter Grimm, a business strategy consultant and disruption planning expert, worked with this client to achieve its growth goals which included expanding into international markets. The following case study summarizes the engagement and outcomes.
THE SITUATION
A US fertilizer and agricultural equipment manufacturer sought to expand its operations to better serve a growing international customer base. To achieve its strategic growth goals as efficiently and cost-effectively as possible, the firm sought clearer visibility into the existing and future competitive landscape in its new potential markets.
THE APPROACH
The team conducted a global analysis of the industry in key growth regions, including Latin America, Europe, and Asia Pacific. Additionally, the team performed a competitive assessment and gap analysis of competitors in these regions. The analyses examined market share, strategy, strengths and weaknesses, threats and opportunities, geographic presence, product sets, differentiators, value propositions, and more.
The assessments identified three primary opportunities in LATAM and Europe, with Brazil as the top recommendation for immediate expansion. The team supported the firm's entry into Brazil, providing a more in-depth assessment of the country's competitive landscape and a deeper dive into the intricacies of the Brazilian agricultural market. This included requirements for financing eligibility, identification and assessment of local dealers and distributors, the effect of import tariffs and currency value fluctuations, market channels, shipping options, and customer analysis.
THE RESULTS
The tailored analysis and recommendations enabled the manufacturer to make confident, strategic growth decisions. The consulting team:
Provided the manufacturer with an extensive understanding of its global and targeted regional competition to prioritize efforts and investments for maximum return.
Accelerated entry into the Brazilian market with quick-turn market intelligence support, ensuring that the company was successfully established in key growth areas and compliant with financing requirements for government incentives that accelerated the sales process.
Leveraged its research and analytic capabilities to augment the manufacturer's internal capabilities throughout implementation to ensure immediate value.
Saved the manufacturer up to $34 for every dollar invested, according to its estimates.
Gain an edge with sophisticated market and competitive intelligence. Our disruption planning consultants  help insulate your company from other disruptions caused by technology advancements, workforce transitions, talent shortages, and other fast-moving trends. Contact us today.