Realizing the Many Benefits of Roundtable Membership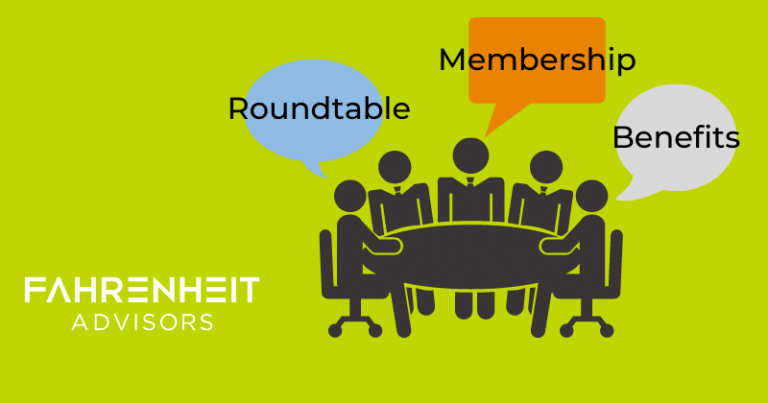 The concept of the roundtable has been around for hundreds of years, but the purpose has changed over time. What was originally conceived to keep equal footing among the members of King Arthur's court, is now used in the business setting to provide a multitude of opportunities for its members.
Executive roundtables have become a hot commodity for the many benefits they offer. Joining a CFO or Controllers roundtable allows you to meet regularly with peer leaders from many other industries. You will share concerns and collaborate on solutions. Someone in the group may have gone through something similar to you, or may be currently going through it as well. Everyone in the group will have relevant experience and will commiserate with you. In this time of a pandemic, roundtables have been an invaluable sounding board for ideas on reopening offices and navigating the changing regulatory environment.
Professional Development
Professional development can also be a benefit of participation. You can bring in topics and speakers to expand upon the skills and knowledge required to be your best and adapt to the changing landscape of your field. As Oprah Winfrey said, "We can't become what we need to be by remaining what we are." Knowing that the roundtable is a confidential and safe place to learn and ask questions helps everyone to grow and reach their professional goals.
Networking
Your roundtable peers also become another source of networking for you and your business. Everyone feels more comfortable referring business to people they know and trust. The roundtable will naturally become a resource for these partnerships as you are discussing what is keeping you up at night, current market developments and trends.
Positive ROI
More and more companies are recognizing the value of roundtable participation. It is an investment in the individual as well as the business. In the competitive marketplace of today, finance executives are more than just number crunchers and report preparers. Controllers, CFOs, and CEOs need to be strategic business partners to help drive their companies' success. Additionally, employees place a value on career development and companies will have a better chance of retaining their employees if they invest in them.
Ongoing Opportunities
Fahrenheit Advisors sponsors both a Controllers Roundtable and CFO Roundtable series, facilitated by Susan Rucker of LeadSpark, and a COO Roundtable series led by Lud Kimbrough, a Managing Director at Fahrenheit Advisors.  Roundtable participants have virtually met during the pandemic and addressed operational issues and shared solutions to common workforce challenges. For example, as government programs were established to address Coronavirus business impacts,the roundtables shared best practices for keeping workers safe while managing compliance between the Family Medical Leave Act and the Families First Coronavirus Response Act. Fahrenheit also provided guidance to roundtable participants as to how each business could maximize opportunities for continuity provided by the CARES Act.
Additionally, the Virginia Council of CEOs sponsors ongoing CEO Roundtables in Central Virginia and Fahrenheit is a sponsor of the Council. CEOs connect with other CEOs to learn from each other through monthly meetings. Members benefit from networking, camaraderie, and professional development through regular meetings and events. If you are interested in learning more about any of these opportunities, send an email to experts@fahrenheitadvisors.com to get connected.
About the Author
Jennifer Hazelgrove, Assistant Controller for Fahrenheit Advisors is skilled in month-end closing, financial statement reporting, accounts payable, accounts receivable, payroll, process improvement, and software implementations. She brings over 25 years of accounting experience including 13 years with Fortune 100 companies and three years with a public accounting firm.