Nonprofit Services Launches With Presentation on Nonprofit Trends
What an honor for me! In front of nearly 40 nonprofit executives and board members, I shared the details of Fahrenheit Advisors' expansion into the nonprofit sector. Sherrie Armstrong, CEO and President of the Richmond Community Foundation capped the event held on December 5 by sharing her expertise with the crowd. Her presentation, titled, "Future Trends & Opportunities for Non-Profits" was spot on. Sherrie gave the crowd an excellent road map of opportunities and potential obstacles to be aware of as we approach 2019 and beyond.
What I heard:
Baby boomers still occupy most of the Giving Pool at 45%, but Generation X giving is on the rise at 20%.
Electronic giving is increasing, in fact 62% of Millennials give through their mobile phones!
The lines between nonprofits and for-profits are blurring. Sherrie reports that regulations that once favored nonprofits are coming under fire as businesses are becoming more civic minded.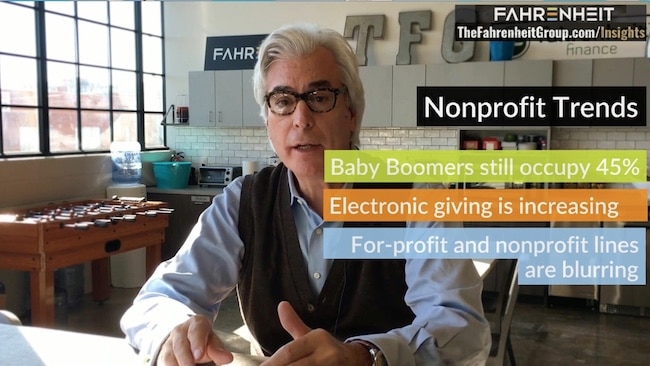 Are businesses becoming civic minded? You bet! I see it every day at the office. But then, it's always been a part of Fahrenheit's DNA.
FURTHERING NONPROFITS: IT'S IN OUR DNA
When I came to Fahrenheit a few months ago, I asked co-founder Rich Reinecke about his vision for the company. It became clear to me that community service is in its DNA. He told me, "Fahrenheit is grounded by a handful of principles, one of which is 'Community'. And for us that means giving back to and supporting the communities where we work and live."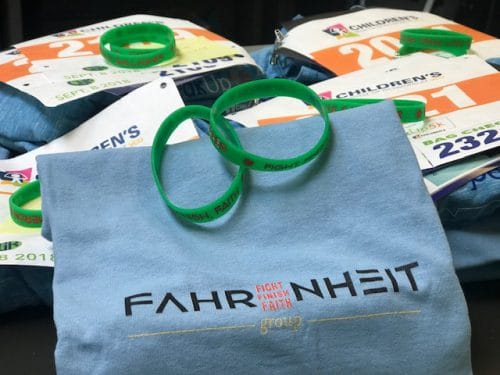 He also said, "When Keith and I met for the first time to discuss launching a business together, the discussion was not focused on the services we would create, but the culture we would build. Although the founding principles weren't penned until later, the concepts were there from the beginning and serving our community was core. We take this principle to heart and so does our team. In fact, many of our employees have served as CFO's, controllers, and director level resources for nonprofit organizations. And, nearly 80% of our members currently volunteer for a nonprofit outside of Fahrenheit. Keith and I have been blessed to attract a team that shares our passion for supporting our nonprofit community."
The types of nonprofits Fahrenheit employees are involved with after hours include: schools, religious organizations, business groups and the arts, to name a few. The company also has a long history of working with nonprofit clients like the MCV Foundation and  Greater Richmond ARC, and employees frequently participate in fundraising efforts for a number of local charities, including the Cameron K. Gallagher Foundation and others. Most recently over $2,500 was raised through a raffle for the local RVA nonprofit Feed More.
NONPROFIT SERVICES DESIGNED FOR REAL WORLD SOLUTIONS
Over the course of the last nine years, Fahrenheit's depth of clients and breadth of advisor's expertise has grown exponentially. The company's team of seasoned, C-level executives and consultants collaborate with management to design strategy, build roadmaps, execute initiatives, and deliver measurable results. We offer interim, fractional, project consulting, and direct hire services across four key practice areas: Accounting & Finance, Business Advisory, Investment Banking, and Executive Search & Recruiting.
And now, I'm pleased to say, with our current arsenal of consultants, Fahrenheit employees, and newly recruited recently retired nonprofit executives, we are uniquely poised to leverage Fahrenheit's proven business model for the nonprofit sector.
Fahrenheit Advisors Nonprofit Services Include:​
Fractional / Interim Leadership​
Organization Review​
Development Plan Review​
Marketing Plan Feedback​
Board Staff Assessment, Training​
Strategic Planning​
Executive Mentoring​
Exploring Impact Investing Model
In the spirt of giving back and living up to our DNA, the Fahrenheit Group also plans to provide pro bono services and reduce its contract fees for those nonprofits that are not in position to pay the full rate for our services.
From development plan review to account and finance expertise to executive search, we're ready to continue to help your nonprofit grow.
About the Author
Greg Wingfield is a Managing Director at Fahrenheit Advisors. Greg brings over 40 years of experience in economic development services and non-profit management, including more than 20 years as CEO of Greater Richmond Partnership. Over the last three years, he was a Senior Fellow in the Wilder School at VCU. Most recently, Greg has provided consulting services to local, regional and economic development groups. Greg leverages his deep experience to guide non-profit organizations in need of fundraising and development coaching, marketing planning, strategic planning, staffing or recruiting guidance and fractional leadership.