CASE STUDY: Global Manufacturer's Strategic Pivot to Be Competitive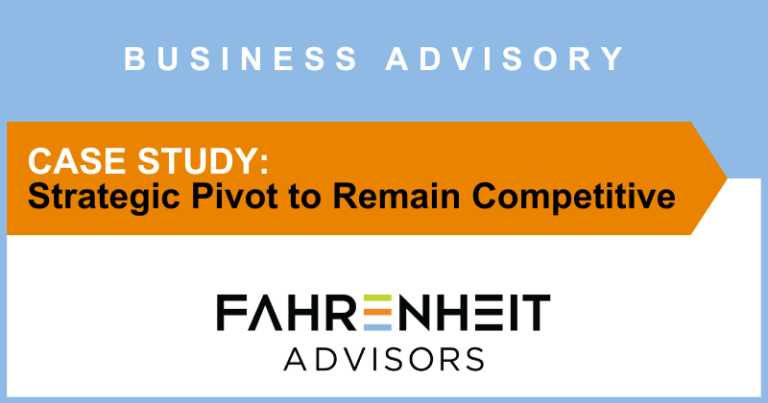 Fahrenheit Advisors' Peter Grimm, a business strategy consultant and disruption planning expert, worked with a global manufacturer of heavy-engineered equipment to pivot it strategically from a historical product focus to a more customer-centric approach.
THE SITUATION
A global manufacturer of heavy-engineered equipment had long relied on the superiority of its products and strategic acquisitions to drive growth. Faced with increased competition from other global manufacturers, a growing number of smaller regional players, and a trend toward product commoditization, the company needed to pivot quickly toward a customer-centric strategy. It engaged Peter and his team to accelerate their strategy development and implementation.
THE APPROACH
The team's approach focused on its four-part "K.L.D.M." planning process.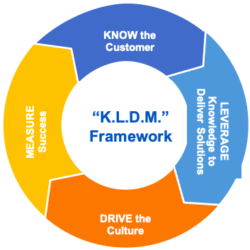 KNOW the Customer. The client improved its knowledge of customers through customer segmentation analysis and voice-of-customer research.
Leverage Customer Knowledge to Deliver Solutions to Customer Challenges. The team internally publicized the client's developing Integrated Solutions capability and highlighted success stories.
Drive the Culture. The team developed and delivered interactive internal training, consistent internal communications, and an internal rewards system. The moves connected each employee's day-to-day activities to tangible customer outcomes and celebrated employees who demonstrated exceptional customer focus.
Measure Success. New KPIs were implemented for existing management processes that tied the client's success to that of their customers.
THE RESULTS
The team's tailored analysis, recommendations, and execution enabled the manufacturer to eliminate unprofitable business and reorient resource allocation toward delighting their most important customers.
The consulting team:
Identified core customer segments and worked with the client to convert insights to action by adjusting core business processes.
Drove a consistent drumbeat of communications and training across the organization, reinforcing the core principles of customer centricity.
Helped leadership revise existing management processes to ensure that customer success was the highest measure of the client's performance.
Increased Net Promoter Score (NPS) from 19 to 45.
Realized a 21% increase in orders.
Engage Fahrenheit's business disruption planning experts