6 Best Competitor Analysis Tools (Updated for 2022)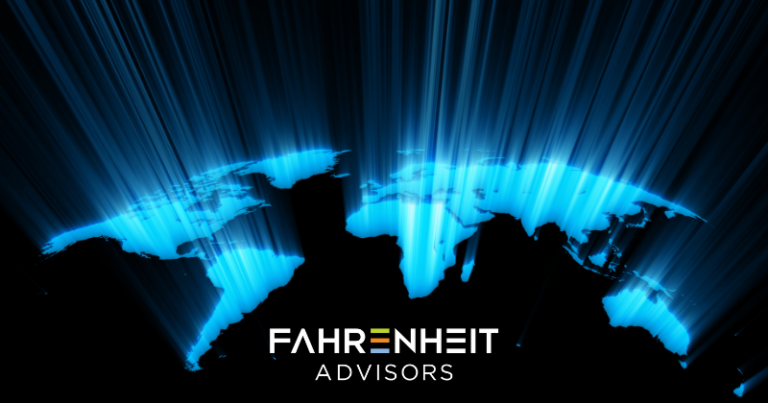 Best competitor analysis tools
Crunchbase
FactSet
Visualping
SEMRush
LexisNexis
PowerBI
Knowledge360Ⓡ
Competitor analysis plays a vital role in the strategies of many of the world's leading firms, acting as an important input into key strategic decisions. But as the industries that businesses compete in become increasingly complex, it's more important than ever that competitive intelligence analysts like you embrace tools that enable you to deliver high-quality insight in real-time.
We all know there are simply too many data points to consider for analysts to manually track competitors. The quantity of available data is unfathomable, and it would be inadvisable for you, and your team, to attempt to harness it without the support of sophisticated technology.
Those that try often fall victim to what we call the Death Cycle of CI. 
Why you need a competitor analysis tool
When you choose the route of manual competitor analysis, you need to keep in mind that while you are saving money by not investing in a competitor analysis tool, you're still paying dearly with your time. In fact, organizations of all sizes often find themselves overwhelmed by a deluge of data, ultimately struggling to deliver any competitor analysis that provides value to their organization.
That's why so many competitive intelligence teams are turning to competitor analysis tools. There are dozens of tools out there. Many of them are closely focused on tactical use cases, like understanding a competitor's SEO strategy or figuring out how much money they're spending on Facebook Ads every month.
To be clear, that approach has its merits, and helps individual contributors like SEO Strategists and Performance Marketing Managers make better tactical decisions. But, we're passionate about enabling organizations to make more intelligent strategic decisions.
This list of competitor analysis tools reflects that, and you'll find that these platforms enable you to build a much more comprehensive understanding of your competitors than the more tactical tools you might find in other lists.
In this guide, we'll explain the roles of different tools, and explore the pros and cons of each platform. Once you've finished reading much more, you'll have an arsenal of tools at your disposal that will enable you to conduct meaningful competitor analysis in 2022.
But first, there's one other thing we need to clear up.
Competitor analysis vs competitive analysis 
Although these are related concepts (often relying upon the same tools to be completed), competitor analysis and competitive analysis refer to two different types of competitive intelligence.
A competitor analysis is an in-depth overview of the strategic capabilities, strengths, and weaknesses of an organization's competitor. You do it with the goal of predicting the future actions of a competitor in order to plan and execute strategies that help your business stay a step ahead.
Individual competitor analyses usually form one part of a larger competitive analysis, which evaluates all of an organization's primary competitors to provide a holistic view of the market.
Now, let's explore the seven best competitor analysis tools available in 2022.
Crunchbase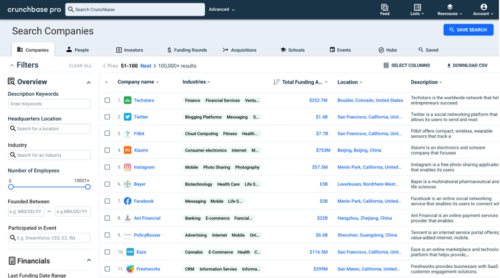 Crunchbase offers access to in-depth data on individual companies, covering information like funding, acquisitions, headcounts, leadership profiles, and more. You'll find that it's especially valuable for privately held companies, with particularly great coverage of startups.
Advantages of Crunchbase
Financial Data: data is pulled from a huge variety of sources to offer a concise snapshot of any given company's financial standing.
Visibility of Private Companies: Crunchbase provides in-depth financial data for privately held companies.
Affordability: There's a free tier, and paid access to more in-depth analysis starts from $29/mo.
Disadvantages of Crunchbase
Limited Free Insights: Without a paid Crunchbase Pro account, the insights available are often relatively minimal.
Data Accuracy Outside the US: Crunchbase data tends to be less reliable outside of the US, and users may want to double check key figures for accuracy.
Interested in learning more? Check out this article from Cipher's VP of Marketing, John Booth: Using Crunchbase for Competitor Analysis
FactSet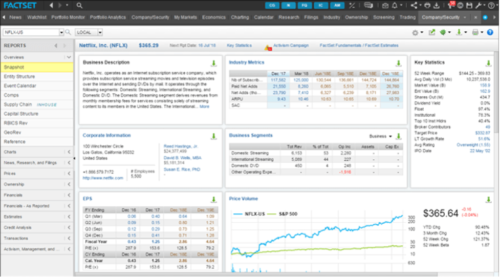 FactSet provides detailed financial information on many major organizations with data that's pulled from hundreds of different databases covering everything from quarterly earnings to the diversity of an organization's revenue across different markets and products.
With so many data sources out there, nobody expects you to be able to manually track the financial performance of each competitor, but by using a tool like FactSet, you can automate a lot of this process, and ensure you'll never miss an important insight.
Advantages of FactSet 
Volume and Diversity of Data: FactSet pulls in financial data from all over the world, giving you access to a breadth of data that's unmatched by other tools.
Automation: There are powerful automation features, including news filtering, custom alerts, and research management tools.
Ability to Track Multiple Competitors: You can track private and public competitors from around the world with powerful market and company data.
Disadvantages of FactSet
Complexity: With so much data available, it can be easy to get lost in FactSet if you lack the appropriate experience to navigate the platform.
Price: The price you'll pay for FactSet is driven by the feature set you choose, but it's a relatively expensive platform in comparison to others listed here.
Visualping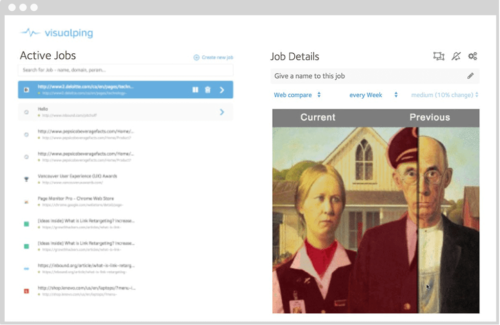 One of the first places any organization announces major news is on their own website. It's impossible for you to manually track the sitemaps and structures of your competitor's websites, but with Visualping, you can automate the majority of the work involved.
Visualping alerts you to changes to your competitors' websites, whether that's the addition of a new page, a change to a list of product features, or a new promotion on a certain product or service. The tool is used by thousands of companies and sends notifications about changes directly to your inbox.
Advantages of Visualping
Ease of Use: You require very little technical expertise to set up alerts for competitor websites.
Wide Range of Applications: Visualping can be used in a variety of ways: to track new product launches, job listings, FDA approvals, and much more.
Simple Visual Displays: It's easy to see exactly what has changed, and when, with screenshots from before and after website updates that highlight the revisions made.
Disadvantages of Visualping
Tool is Still Developing: Visualping is a relatively early-stage startup, and you might find that some of the Enterprise features available with other competitor analysis tools aren't available.
Minimal Support: User reviews note that customer support can be limited, and is only available via email.
Semrush*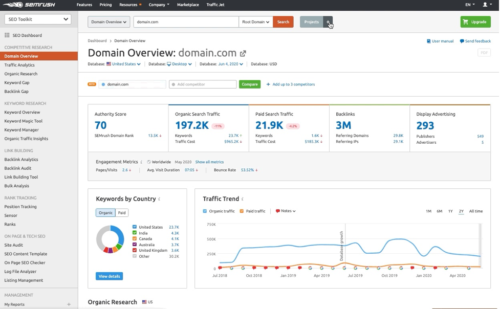 There's a variety of different digital marketing platforms that enable you to conduct competitor analysis, but in our experience, Semrush is the most comprehensive of all of them.
The platform has a broad range of tools that cover various elements of an organization's marketing infrastructure, from social media to traffic analytics that help you understand how your website is performing relative to your competitors.
*Our review of SEMrush was before the announced acqusition of CI tool Kompyte.
Advantages of Semrush
Range of Tools: There's a huge variety of tools available that help sales teams and marketers get high-quality competitor analysis.
Discover Opportunities: It's easy to pinpoint opportunities to exploit weaknesses with insights into each competitor's weaknesses online.
Track Multiple Touchpoints: Semrush enables companies to track their competitors across multiple channels, including SEO, paid advertising, and social media.
Disadvantages of Semrush
Learning Curve: The platform has many features, and if you're not used to working with platforms like Semrush, it can be challenging to get up to speed quickly.
Limited Scope: Semrush only provides value to marketers and sales teams, and offers insights that are more tactical in nature, not strategic.
LexisNexis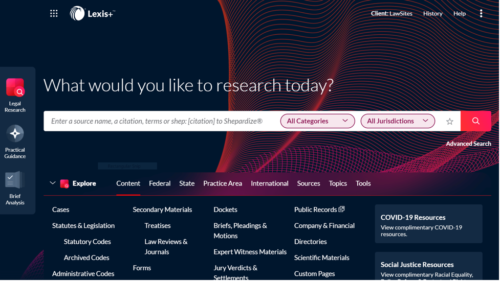 LexisNexis is one of the world's leading providers of competitive intelligence data, monitoring a huge number of media platforms, legal filings, public records, and news sources to provide competitive intelligence analysts like you with cutting-edge insights as they happen.
The applications of the data on the LexisNexis platform are endless. You can also customize the insights you receive to focus on a defined set of competitors, ensuring that you only receive relevant information.
Advantages of LexisNexis
Variety of Data Sources: With over 45,000 sources of data, LexisNexis is one of the most comprehensive sources of competitive intelligence data.
Automation: Curate your news feeds to cover topics you're most interested in with powerful automation and customization tools.
Diversity of Use Cases: LexisNexis can be used to analyze everything from your competitor's patent applications to the media coverage they receive.
Disadvantages of LexisNexis
Collaboration: Tools that enable teams to work together on projects are not front-and-center of the LexisNexis user experience, and users may struggle to collaborate on large-scale initiatives.
Legal Focus: LexisNexis is a product primarily geared towards the legal community, and if you're not an attorney, you might find this focus unhelpful.
PowerBI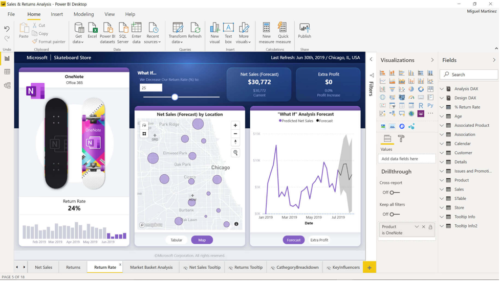 Sourcing robust datasets, performing comprehensive analysis, and delivering cutting-edge competitor insights all count for nothing unless your audience actively consumes your competitor analysis. The ability to present analysis in a powerful, visually appealing manner is a highly significant determinant of the success of any competitor analysis.
Building and sharing a compelling narrative around competitive intelligence requires powerful data visualization tools, and in our view, PowerBI is one of the best out there. It enables your team to connect to a huge variety of different data sources and weave them into a series of powerful visual insights that are coherent, interactive, and widely shareable.
Advantages of PowerBI
Flexibility: PowerBI acts as a connector between more than 500 different data sources, from Excel sheets to cloud-based analytics platforms.
Visualization Tools: There are a variety of ways to bring your data to life, with a library of hundreds of data visualizations templates for teams to adopt.
Access to Expertise: PowerBI is a popular platform, and there is a huge network of consultants available to support transitions and integrations.
Disadvantages of PowerBI
Complexity: If you're not familiar with big data platforms, there's a relatively steep learning curve when it comes to mastering PowerBI. Less sophisticated end users may struggle to learn how to use the platform.
Microsoft Ecosystem: PowerBI is a Microsoft product. If your organization doesn't use Office365, PowerBI may not be the best fit.
Start Using Knowledge360 for Competitor Analysis Today
We firmly believe that Knowledge360 delivers unparalleled value as a competitor analysis tool. The platform features a vast range of powerful tools and integrations built specifically for the modern competitive intelligence organization, and companies from all over the world are already using Knowledge360 to stay a step ahead of their competition.
Engage the competitive intelligence specialists at Fahrenheit Advisors to sharpen your competitive edge. Schedule a call today.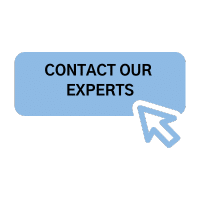 MEET THE EXPERTS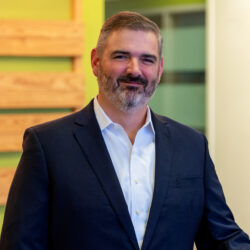 Peter Grimm leverages his background in national security and experience as a strategy consultant and PE-backed CEO to help clients navigate rapidly changing environments. He is skilled in corporate strategy, market analysis, competitive intelligence, disruption planning, disruption preparedness, and organizational leadership.
Following service in the US Navy and as a counterterrorism analyst at a US government agency, Peter spent 8 years in the Strategy Practice of Deloitte Consulting.  Peter then served as CEO of a PE-backed consulting and technology firm, leading the company through two successful exits.  He's helped middle market companies, Fortune 500 firms, and Federal agencies "see around the corner" and turn threats into opportunities.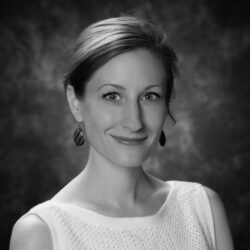 Jennifer Buchwald has been helping companies make better decisions through strategic insights and competitive intelligence for more than 15 years. With a formal education in philosophy and experience working in a broad set of industries, Jennifer brings a holistic understanding of business challenges and forward-looking observations to a diverse set of clients.
Jennifer began her career fielding market research studies for clients in the Consumer Packaged Goods space before joining one of the largest grocery chains in the United States performing location intelligence and site analysis for their real estate division. After a period providing competitive intelligence services for a Fortune 100 infrastructure technology company, she joined a boutique firm offering strategic advice for clients in a variety of industries.