4 Creative Ways to Attract Millennials and the Newest Generation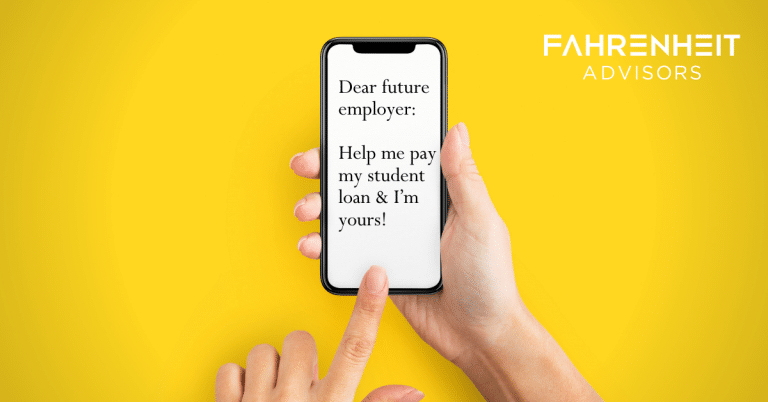 The once private matter of how students are funding their education, has become one of the most talked about, and debated, topics of the past five years. We have all become painfully familiar with the facts; there is currently and estimated $1.6 T in outstanding student loans, with about 11% of borrowers already in default of their loans – compared with 8.32% in default on their credit card debt.
Anyone who objectively reviews the issue of student loans understands the burden that this debt has on the individuals involved, as well as their family and inner circle of friends. News coverage has come from every direction, prompting political candidates to offer policy recommendations to ease this burden by shifting the costs. While these policy recommendations have shed needed light on the problem, the recommendations offered have also been met with resistance, namely, using public money to resolve private debt. 
To most employers, this dilemma is interesting, and even sad, but it is a private issue and not one of their pressing concerns. Well, maybe it should be. The millennial generation is feeling the brunt of the student loan crisis, and they also represent the bulk of the talent pool that most employers are attempting to attract and retain.
The emotional toll that this debt has on these individuals is sure to seep over into their daily lives, including their work. As much as we would like to think of the student debt crisis and everyday challenges in the workplace as separate issues, they are converging at an alarming rate, and employers are beginning to pay closer attention to their role in a possible solution.  
New Generation of Employees Willing to Trade Benefits for Loan Assistance
Surveys conducted by the Society of Human Resources Management (SHRM) have clearly shown how important the student loan issue is to those employees who carry these loans. Respondents have indicated that they would be willing to trade existing benefits – such as paid time off benefits – for programs where they receive assistance in paying off their student loans.
While awareness of the problem has grown, currently only 8% of employers nationwide offer any type of benefit program to assist their employees with student loan payment. The good news is that this initiative is still in its infancy, and there is no "box" to limit an employer's creativity in designing a plan that works for their individual situation and financial limits. 
4 Employer Assistance Options to Win the Hearts of the Newest Generation
Like all business decisions, an employer must first determine the real impact of the student loan issue on their ability to attract and retain the employees it needs, as well as the potential costs associated with adding an element to their benefit program to assist qualified employees with payment.
If a decision is made that offering a solution is warranted, and an employer would offer needed assistance to its employees, an employer can consider several options – depending on their ability to finance these new programs. 
Some of these options include:
#1) Incorporate Loan Repayment With Retention and Performance Goals

Many organizations offer retention bonuses or other forms of incentives to encourage employees to remain with them.  It doesn't take much imagination to understand how attractive it would be to an employee with student loans to have their employer offer direct repayment of their loans.  In order to provide a consistent program, it will be important to design a plan that is equally attractive to employees with and without loans.
#2) Align Current Education Assistance Reimbursement Programs With Repayment of Existing Student Loans
Tuition Assistance Programs have become increasingly common, and with a little thought and creativity, these programs can be revised to include existing loan repayment. Most programs require employees to engage in continuous learning that either directly supports their current job responsibilities or enhances their knowledge or skills to help them become more promotable in the future.
In addition, there is usually a service requirement and an annual reimbursement limit that are applied. These policy provisions could be adapted to incorporate loan repayment. Many companies currently provide a monthly, annual or lifetime reimbursement limit. In order to clearly establish the value of the benefit, payments are commonly made directly to the employee's financing partner.
For companies that offer this type of reimbursement plan, the monthly amounts are surprisingly affordable. The average monthly payment ranges between $100 and $200, or an annual limit of $1,200.
#3) Expand or Create a Financial Advisory Program
This type of program can be equally beneficial to all employees who may be experiencing financial issues or just need help establishing a personal budget. It is an unfortunate fact that many student loan holders do not know exactly how much they owe or the interest rates they are paying.
Basic education or guidance in personal finance can be of great assistance in helping employees organize and prioritize their debt. It is not unusual for employees to have to choose between the repayment of their loans and paying for other elective benefits. Financial guidance will also help employees balance the repayment of their loans with other needs, such as beginning to save for their retirement. 
#4) Add Flexibility to Existing Benefit Plans
As mentioned earlier in this article, many employees who have student loans would be willing to trade some of their time off benefits for some type of repayment plan. Many time off benefit plans include limits to the number of unused days an employee can carry over from one plan year to the next.
Some companies have approached the student loan crisis by allowing employees to redirect the value of unused time off benefits towards the repayment of their student loans. Balance is needed here so that employees do not deprive themselves of the time away from work that is needed to relax and regenerate, in exchange for the resources to repay their loans.
The millennial generation values flexibility, and some creative approaches to recycling existing benefits can be a very attractive and beneficial in assisting employees in the utilization of their benefit plans to their fullest extent.
Wise and Creative Employers Create a Value Proposition That Resonates
As the student loan crisis continues to grow and the policy solutions are debated, it is a certainty that the burden and frustration on employees will continue to be an opportunity for employers to aid in the solution. Creative employers who want to be one step ahead of their competitors for talent would be wise to begin to give serious thought to how their benefit programs can be redesigned to assist employees. Creating a value proposition that resonates with the newest generation of workplace talent will not only become a cultural enhancement, but a business imperative.
Need help getting started? Contact us, we're ready to help!
About the Author
Nathan P. Duet, Managing Director, Fahrenheit Advisors, is an accomplished Human Resources professional with over 34 years of experience with specific concentration in building sustainable human resources functions within rapidly growing organizations, as well as making strategic adjustments to policies and practices to accommodate the organization's strategy and development.